SHARE:
ESF Offers Adirondack Residential Semester
'Understanding the Park' is open to undergrads, grad students

2/23/2012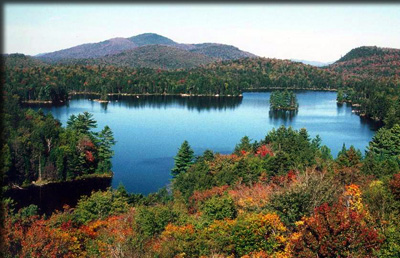 Students with an interest in the Adirondacks have a new opportunity to spend a full semester living and studying in the heart of the 6 million-acre forest preserve.
A 16-credit residential semester called, "Understanding the Park," will be offered this fall by the SUNY College of Environmental Science and Forestry (ESF) in Syracuse. Students will live and learn at ESF's Newcomb Campus on the 15,000-acre Huntington Wildlife Forest.
This is the first time in ESF's 100-year history that a semester-long course will be held at the Newcomb Campus.
"This is a powerful academic semester that will be a unique experience for students," said Paul Hai, program coordinator for ESF's Northern Forest Institute, which is located in Newcomb, and one of the semester instructors. "The mix of disciplines - physical science, social science, ethics, leadership - will give students a rich, multifaceted perspective on natural resources, conservation, ecology, and economics in Adirondacks, lessons and insight applicable far beyond the park's borders."
The semester, open to any interested upper-division undergraduate or graduate students from the SUNY system or private colleges and universities, includes coursework in field science, environmental philosophy, social sciences and human dimensions. It also includes regular field trips to scientific research sites, historic sites, cultural sites and institutions, and a broad spectrum of agency, municipal, and public meetings. The culminating project will be an independent study drawing on the semester's breadth of interdisciplinary experiences to consider the question, "What is the Adirondack Park?"
Students participating in this semester benefit from ESF's more than 80 years of continuous research in the Adirondacks, as well as the contributions and interaction with faculty and staff of the nation's oldest stand-alone institution focused on the study and understanding of our environment.
Students interested in registering for or obtaining further information about the Adirondack residential semester should contact Hai at pbhai@esf.edu or 518-582-4551, ext. 104.
Recent ESF News
News Archives
Communications & Marketing
SUNY-ESF
122 Bray Hall
1 Forestry Drive
Syracuse, NY 13210
315-470-6644