SHARE:
ESF Graduate Finishes Second in National Timbersport Competition
David Andrews was four-year member of Woodmen's Team

7/27/2012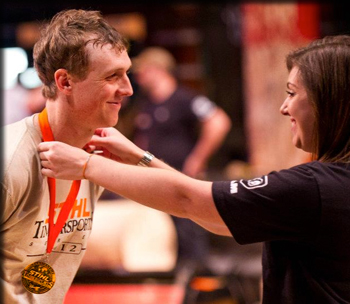 Recent ESF graduate David Andrews finished second in the 2012 Stihl Timbersports Collegiate Championship.
Andrews finished just two points behind the winner, Timothy Benedict, a third-time competitor from Penn State. Andrews competed in four events, placing first in the standing block event and second in the underhand. He was one of six competitors from around the country who earned a place in the national competition by placing first in a regional qualifier.
The second-place national finish capped a successful year for Andrews and the ESF Woodsmen's Team, which had won both the men's and women's championships in the final timber sports competition of the academic year, topping a large field at the annual northeastern spring meet.
Andrews, the team president who studied acquatics and fisheries science at ESF, won the northeast Stihl Timbersports Collegiate Challenge at the regional meet and qualified to compete in the national collegiate championship in June.
The national competition was in Pigeon Forge, Tenn., June 1 through 3. Coverage of the event is scheduled to be televised 7:30 p.m. July 27 on ESPNU.
Recent ESF News
News Archives
Communications & Marketing
SUNY-ESF
122 Bray Hall
1 Forestry Drive
Syracuse, NY 13210
315-470-6644