SHARE:
Roosevelt Wildlife Collection Earns Heritage Preservation Assessment
Specimens enhance study of biodiversity

11/7/2012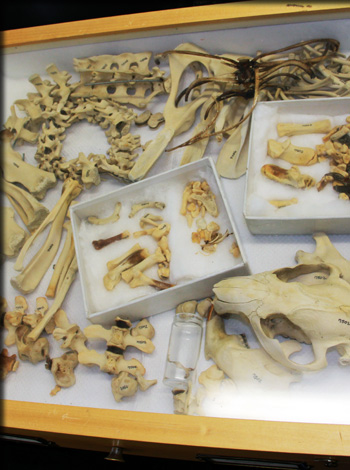 ESF's Roosevelt Wildlife Collection, which contains more than 10,000 specimens of wildlife ranging from songbirds to an African lion, has been chosen to participate in Heritage Preservation's 2012 Conservation Assessment Program (CAP).
"The Roosevelt Wildlife Collection holds the animal specimens that are invaluable for students studying the biodiversity of life," said Dr. Jacqueline Frair, associate professor in the Department of Environmental and Forest Biology and associate director of ESF's Roosevelt Wild Life Station. "The collections enhance every class addressing biodiversity by making tangible the volume and variation of life. My students benefit from hands-on learning experience when they examine the Roosevelt Wildlife Collection's eggs, fins, furs, and bones in my classes.
"By participating in CAP, we expect not only to enhance our care and display of, and access to, these historic animal specimens but to augment preservation of the collection's extensive photographic archives, documenting early-20th century field expeditions of Roosevelt Wild Life Station scientists," Frair said. "With CAP recommendations, ESF can strategize a path forward to share the collection with students and the broader public, through display, web access and other innovative methods."
The Roosevelt Wildlife Collection is housed in ESF's Illick Hall. It contains specimens of birds, mammals, freshwater and marine fishes, reptiles and amphibians. The collection is part of the legacy of the Roosevelt Wild Life Station established at the college in 1919.
Through the assessment program, a professional conservator will spend two days this month surveying the site and three days preparing a comprehensive report that will identify conservation priorities. The on-site consultation will enable the Roosevelt Wildlife Collection to evaluate its current collections' care policies, procedures, and environmental conditions. The assessment report will help the museum make appropriate improvements for the immediate, mid-range, and long-range care of its collections.
The ESF collection joins 2,800 other museums that have participated in CAP in its 22-year history of serving museums. Heritage Preservation's CAP is supported through a cooperative agreement with the federal Institute of Museum and Library Services. CAP assists museums by providing funds for professional conservation and preservation specialists to identify the conservation needs of their collections and recommend ways to correctly improve collections' conditions.
Lawrence L. Reger, president of Heritage Preservation, praised ESF for "making the vital work of caring for collections a priority of their institution, even in these challenging financial times, and helping ensure that they are available to present and future generations."
Heritage Preservation is a national non-profit organization dedicated to preserving the cultural heritage of the United States. Heritage Preservation assists museums, libraries, archives, historic preservation and other organizations, as well as individuals, in caring for our endangered heritage.
The Institute of Museum and Library Services is the primary source of federal support for the nation's 123,000 libraries and 17,500 museums. The Institute's mission is to create strong libraries and museums that connect people to information and ideas.
Recent ESF News
News Archives
Communications & Marketing
SUNY-ESF
122 Bray Hall
1 Forestry Drive
Syracuse, NY 13210
315-470-6644