SHARE:
Trailhead Café Debuts 'Big Neil' Burger
New gathering spot formally opens

3/26/2013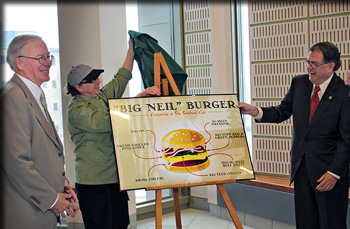 The Trailhead Cafe on the campus of the SUNY College of Environmental Science and Forestry (ESF) formally opened for business March 26 with the unveiling of a burger named after the college president.
The "Big Neil" burger, borrowing a nickname affectionately bestowed upon President Cornelius B. Murphy, Jr., by the student body, consists of a house-made beef patty topped with bacon, fresh grilled pineapple, Swiss cheese, Russian dressing, and sauteed red and green peppers and onions, all on a burger bun.
The cafe is a collaborative venture between ESF and Morrisville State College. The eatery will be operated by the Morrisville Auxiliary Corporation (MAC) through a new ESF Auxiliary Services division. MAC currently operates five food service locations on the SUNY Morrisville campus.
"This partnership is really the essence of shared services," Murphy said during the grand opening ceremony. "In this setting it's just spectacular. And I have to share this: I've eaten here. The food is good."
Morrisville Interim President William J. Murabito, who joined Murphy for the event, said the cafe would have been good news to his friend, the late Dr. Harry Payne '50, who was a longtime faculty member and dean of students at ESF. "He would have thought it's a good thing because it's for the students," Murabito said.
The Trailhead Cafe will be open from 11 a.m. to 5:30 p.m. Monday through Friday. It supports New York state producers, growers and manufacturers by purchasing many products within the state. The work force includes about 20 ESF students.
Recent ESF News
News Archives
Communications & Marketing
SUNY-ESF
122 Bray Hall
1 Forestry Drive
Syracuse, NY 13210
315-470-6644