SHARE:
ESF Presents Documentary 'Switch'
Film explores questions about energy

4/5/2013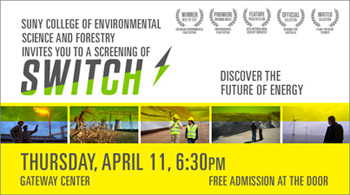 The SUNY College of Environmental Science and Forestry (ESF) will screen the critically acclaimed documentary, "Switch," at 6:30 p.m. Thursday, April 11, in the Gateway Center on the ESF campus.
The film addresses an array of questions about energy: Is fracking polluting our water? How dangerous is nuclear? Will we run out of oil? Can we clean up coal? Will renewables power our future?
In "Switch," which is also linked to a web video series, energy visionary Dr. Scott Tinker travels the world, exploring leading energy sites from coal to solar, oil to biofuels, most of them highly restricted and never before seen on film. He seeks the truth from the international leaders of government, industry and academia. In the end, he cuts through the confusion to discover a path to our energy future as surprising as it is practical.
Switch will screen at 250 universities across the country as part of the GSA Switch Energy Awareness & Efficiency Program, which also includes a campus ambassador program and efficiency drive.
The film has been described as "smart and refreshingly free of hot air" by the Washington Post; "intelligent, honest and quite effective" by Variety; and "affable, reasonable and unfailingly curious" by the Boston Globe. Cinespect reported: "Agenda free journalism, that's what makes 'Switch' so impressive," and the Los Angeles Times said the film does "an admirable job untangling the issues." The DC Film Review said "Switch" is "must-see entertainment for every person in America."
"Switch" and the GSA program are part of the "Switch" Energy Project, a multipronged effort to build a global understanding of energy. The project was created by Arcos Films, directed by acclaimed documentary filmmaker Harry Lynch and co-produced with
Tinker. It also includes a continually expanding website of 300 videos on the energy topics that drive our world; an education program of videos and curricula co-developed with the energy-education known as the NEED Project and the American Geological Institute; and eventually a broadcast/webcast series to discover solutions to our most pressing energy challenges.
Tinker has been exploring energy for 30 years. His passion is bringing government, industry and academia together to solve some of the world's toughest energy challenges. Toward that end, he has given nearly 500 invited and keynote lectures in nearly 50 countries. Tinker is the director of the Bureau of Economic Geology, the state
geologist of Texas, a professor holding the Allday Endowed Chair and the acting associate dean of research at the Jackson School of Geosciences, University of Texas at Austin. Lynch, for 17 years, has been a documentary director, producer, writer, cinematographer and soundtrack producer, whose films include "Switch," "Unconventional,"
"Recapturing Cuba," "Ride Around the World" and "Making the Modern." He is the co-founder of Trinity Films and the founder of Arcos Films, a multimedia production company focused on building a practical understanding of today's most pressing social issues.
Recent ESF News
News Archives
Communications & Marketing
SUNY-ESF
122 Bray Hall
1 Forestry Drive
Syracuse, NY 13210
315-470-6644