SHARE:
And They're Off: Graduates Move on to New Lives
'The world is our test tube,' student speaker says

5/13/2013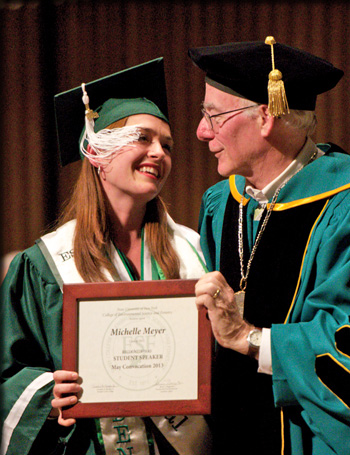 Oh, the places you'll go, with hard work, determination and a degree from the SUNY College of Environmental Science and Forestry (ESF).
Consider these examples among the Class of 2013:
• Michelle R. Meyer, top scholar in the Department of Environmental Studies: Meyer, of Baldwinsville, traveled to India and Haiti as a student at ESF and this summer will travel to Central America to learn about sustainable agricultural ecosystems before pursuing a career in urban agriculture.
• Jasmin Jackson, Bachelor of Science in environmental biology: Jackson, of the Bronx, plans to take a year off before continuing her studies at a veterinary school and pursuing her goal of becoming a large-animal vet. Next up for her, she said at ESF's Convocation Saturday, is an internship at Days End Farm, a horse rescue and rehabilitation facility in Maryland.
• Lauren K. Worrell, top scholar in the Department of Forest and Natural Resources Management: Worrell, of Oakland, Calif., plans to hike the Pacific Coast Trail and visit Huerta de Vida (Garden of Life), a sustainable living project near Mendoza, Argentina, before seeking a position in her field of study.
Other grads, like Noah Zeppetello, of West Saugerties, will start jobs upon leaving Syracuse. Zeppetello, who earned a Bachelor of Science in Sustainable Construction Management and Engineering, has been hired to work as an office engineer for a firm in Washington, D.C. He will live in Virginia.
Zeppetello had an internship in Central New York and was offered a job in the area, but "he wanted to be somewhere warmer,'' said his mother, Lyza Zeppetello, with a smile.
ESF's Convocation, the traditional celebration before joint commencement with Syracuse University, was held Saturday, May 11, at the John H. Mulroy Civic Center in downtown Syracuse.
It's a day to "savor a hard-earned goal achieved,'' said Dr. Bruce C. Bongarten, ESF provost and vice president for academic affairs, in his welcome remarks.
During the Convocation, departmental honors were bestowed on the top students in each of the college's discipline areas.
Meyer, the student speaker, reminded her classmates to continue learning, in new ways, as they step beyond the classroom and campus and become citizens of the world.
"Learning isn't just about earning a degree. It's about pushing boundaries. We are all scientists, and the world is our test tube,'' she said.
Meyer also took the opportunity to thank ESF President Cornelius B. Murphy, Jr., for inspiring her and her classmates to do great things. Murphy has announced he will step down from his position when a successor is found,
"Dr. Murphy will often tell you how amazing the students are at ESF,'' Meyer said. "That is only because we learn from the best.''
- By Margaret McCormick
Recent ESF News
News Archives
Communications & Marketing
SUNY-ESF
122 Bray Hall
1 Forestry Drive
Syracuse, NY 13210
315-470-6644