SHARE:
NNY Community Foundation Supports TIBS Development
Funding helps complete residence for students, researchers

7/15/2013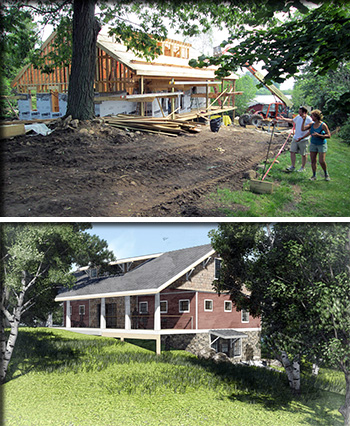 The Northern New York Community Foundation has awarded the SUNY College of Environmental Science and Forestry (ESF) a $15,000 grant to support development of the college's Thousand Islands Biological Station (TIBS) near Clayton.
The grant will make possible the completion of a new student/researcher residence at the biological station, which is located on Governor's Island.
"The Northern New York Community Foundation grant will be crucial in bringing our new residence building to completion late this summer or early in the 2014 season," said Dr. John Farrell, the director of TIBS. "The match challenge will add to the incredible outpouring of support we have already seen from the Thousand Islands community."
The biological station has been providing the science to support fisheries management, habitat protection and ESF's overall aquatic and fisheries research program for more than 25 years while training the young environmental scientists who will continue to support this work into the future.
A recent National Science Foundation grant provided funding for a major upgrade of laboratories at TIBS but, in turn, has meant elimination of most of the limited space for students and visiting researchers who wished to stay on Governor's Island while conducting their work.
Under construction is a new $500,000 building that will provide the residential space needed to support the research program. Traditional funding sources cannot support this housing so the work is being done with a blend of college funds and support from the Thousand Islands community. Approximately $435,000 has been raised so far.
The grant from the Northern New York Community Foundation provides critical assistance toward completing the project, especially in encouraging matching gifts. The award comes from the foundation's board-designated grant-making fund as well as from the Foundation's Grace L. Reinman Fund and the Alex Velto Community Fund.
ESF is conducting a summer appeal to match the grant and raise additional funding. Anyone wishing to make a gift can visit the college's website, www.esf.edu, and select "Make a Gift" and then the "Thousands Islands Biological Station" option. Those wishing to make a gift can also call 315-470-6683; or e-mail gifts@esf.edu.
Recent ESF News
News Archives
Communications & Marketing
SUNY-ESF
122 Bray Hall
1 Forestry Drive
Syracuse, NY 13210
315-470-6644