SHARE:
Emerita Faculty Member Earns Honorary Degree
Swedish University of Agricultural Sciences celebrates Senecah's accomplishments

12/18/2013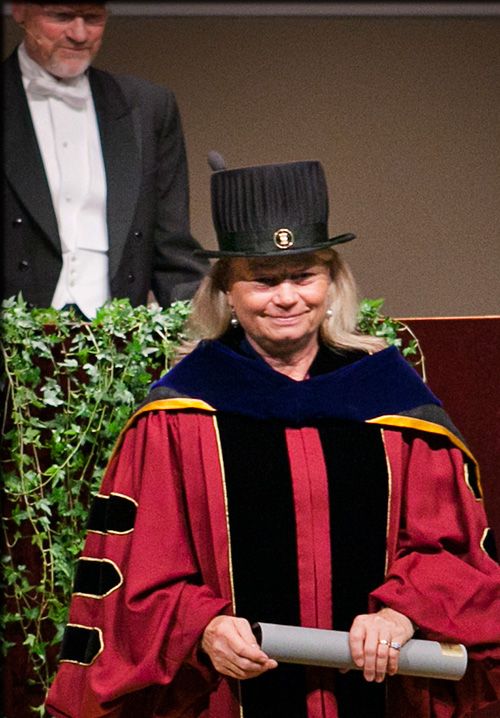 Dr. Susan L. Senecah, an emerita faculty member of the SUNY College of Environmental Science and Forestry (ESF), was awarded an honorary doctorate by the Swedish University of Agricultural Sciences.
Senecah was appointed Honorary Doctor by the university's Faculty of Natural Resources and Agricultural Sciences.
Senecah specializes in environmental communication, including issues such as popular participation in decision-making processes, conflict management, environmental campaigns and the legislative processes.
She was honored for her pioneering work in the field of environmental communication, with a unique combination of science and practice, and for her support in the development of the subject of environmental communication at the university in Sweden.
The honor was bestowed upon Senecah during a three-day event that included formal dinner parties and a 30-minute presentation by the honoree in a castle in Uppsala, Sweden.
At ESF, Senecah was a faculty member in the Department of Environmental Studies for 17 years. She continues to teach a course in collaborative governance. She earned her bachelor's degree from Bemidji State University in Minnesota, and her master's and doctoral degrees from the University of Minnesota.
Recent ESF News
News Archives
Communications & Marketing
SUNY-ESF
122 Bray Hall
1 Forestry Drive
Syracuse, NY 13210
315-470-6644