SHARE:
Gold Medal Goes To Donald Leopold
NYSNLA awards 2009 George L. Good gold medal

8/28/2009
The video originally included in this story is no longer available via this page. Contact web@esf.edu if more information is required.
Copyright © All Rights Reserved by copyright holder
Each year, the NYSNLA George L. Good Gold Medal Committee makes its recommendation to the NYSNLA Board of Directors as to an individual who has made outstanding contributions to horticulture in the State of New York. "Dr. Leopold has made significant contributions to New York's horticulture through his teachings at SUNY‐ESF and through his many years of promoting the use of northeastern US native trees, shrubs, perennials and grasses," comments A. Martin Petrovic, Ph.D. (Department of Horticulture, Cornell University), NYSNLA Gold Medal Committee Chair. "The industry and gardening public has been afforded many trusted publications authored by Dr. Leopold including his comprehensive, best‐selling book Native Plants of the Northeast: A Guide for Gardening & Conservation (D.J. Leopold, Timber Press, Portland, OR)."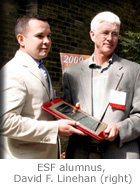 Also honored was ESF alumnus, David F. Linehan of Glens Falls, N.Y., who earned a Bachelor of Landscape Architecture in 1975. Linehan was named the Certified Nursery Landscape Professional of the Year.
Recent ESF News
News Archives
Communications & Marketing
SUNY-ESF
122 Bray Hall
1 Forestry Drive
Syracuse, NY 13210
315-470-6644