SHARE:
ESF Presents Housing Plan to City Officials
LEED silver-certified residence hall will be first housing specifically for ESF students

9/21/2009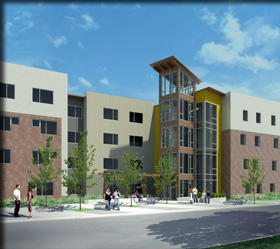 The SUNY College of Environmental Science and Forestry (ESF) will present plans for its new residence hall to the Syracuse Planning Commission Monday, Sept. 21.
The ESF College Foundation, Inc., plans to construct and operate the facility on Oakland Street, just west of the main ESF campus. The 454-bed facility will house 280 freshmen and 174 upperclassmen.
The building will be the first residence hall for ESF students, who have lived in Syracuse University housing or off-campus apartments in the university neighborhood.
"Because of Syracuse University's understandable space needs, we have a limited number of beds available to us for our students every year," said Dr. Robert C. French, ESF's vice president for enrollment management and marketing. "That number is now lower than we would like for our long-term enrollment plans."
ESF currently has around 1,600 undergraduates and 600 graduate students enrolled. Enrollment growth has been steady over the last several years.
The ESF College Foundation, Inc., which supports the college's educational mission, has been acquiring property along Oakland Street for several years. Groundbreaking on the project is scheduled for May 2010, with completion slated for August 2011.
Foundation Executive Director Brenda Greenfield said the $30 million project will be financed through tax-free bonds.
The residence hall is planned as a silver-certified LEED building. The building's impact on the environment will be reduced by the use of storm water management techniques, Flexi-Pave walkways, sustainable building materials where possible, landscaping that includes native plants and a limited need to mow, extensive indoor bicycle storage facilities and a pedestrian-friendly design. In addition, Greenfield said, the existing houses on the street will be deconstructed so the materials can be used again, by either ESF or Habitat for Humanity in one of its construction projects.

The building will provide a limited number of parking spaces for upperclassmen. ESF freshmen do not have cars on campus.
In addition to the Planning Commission meeting, the foundation has invited neighborhood groups to an informational meeting 6:30 to 7:30 p.m. Wednesday, Sept. 23, at Erwin First United Methodist Church, Euclid and Westcott streets. The meeting will be in Friendship Hall.
"We'll be able to answer questions any of the neighbors might have," Greenfield said. "The college wants to be a good neighbor."
Recent ESF News
News Archives
Communications & Marketing
SUNY-ESF
122 Bray Hall
1 Forestry Drive
Syracuse, NY 13210
315-470-6644