SHARE:
Professor Ramarao Honored With Andrew Chase Award
Honor recognizes outstanding scientific contributions to field of forest bioproducts

11/20/2014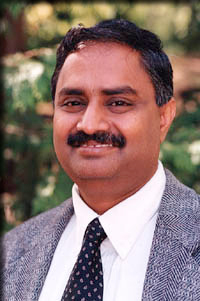 Professor Bandaru V. Ramarao, a professor in ESF's Department of Paper and Bioprocess Engineering, was honored with this year's Andrew Chase Award from the American Institute of Chemical Engineers (AIChE), Forest Bioproducts Division (FBD) recognizing his outstanding scientific contributions to the field of forest bioproducts and leadership and service to the division.
Ramarao has been a professor at ESF since 1997 and has served as the director of the Empire State Paper Research Institute since 2003.
Ramarao's research contributions are in the area of transport processes and separations. He has researched moisture transport processes and water removal from lignocellulosics, including pulps. His primary area of research is in separation processes and has led to commercial applications. He also serves as an editor of Separation and Purification Technology.
Ramarao has served in leadership roles of the AIChE's FBD for many years, as programming chair and division chair.
The award was presented at the 2014 AIChE Annual Meeting in Atlanta, Ga., which is attended by more than 8,000 delegates from around the world.
Recent ESF News
News Archives
Communications & Marketing
SUNY-ESF
122 Bray Hall
1 Forestry Drive
Syracuse, NY 13210
315-470-6644