SHARE:
ESF Confers Degrees
Two alumni honored during ceremony

12/5/2014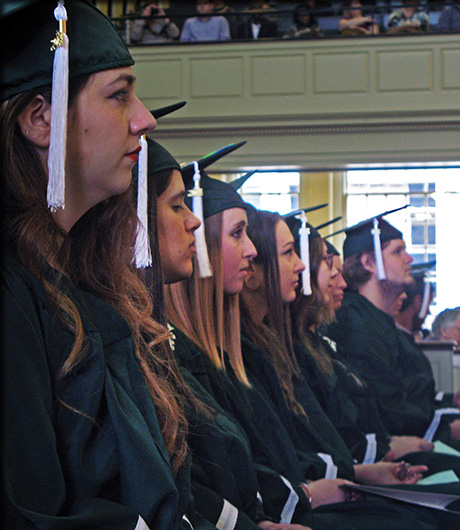 The SUNY College of Environmental Science and Forestry celebrated the accomplishments of its newest graduates in a Convocation ceremony Friday at Hendricks Chapel.
The College conferred 197 degrees, including 61 master's degrees and 17 Doctor of Philosophy degrees, during the ceremony that also honored two alumni.
Reading today's headlines, ESF President Quentin Wheeler noted that it is easy to become discouraged; however, "at each graduation ceremony, my optimism and faith in the future is renewed." The class of 2014, he said, "gives me confidence that the future is in good hands."
He reminded the graduates that when the ESF community steps up to a challenge, great things happen, including the restoration of the American chestnut tree and the recovery of Onondaga Lake.
"Do your part. Follow your dreams," Wheeler said.
The Lifetime Achievement Award was bestowed upon Dr. Jean M.J. Frechet '69, '72, and the Notable Achievement Award was given to Dr. Jin Yoshimura '89.
Frechet is a world-class materials chemist who has dramatically advanced the fields of materials science, chemistry and numerous other related disciplines and was a recipient of the 2013 Japan Prize. He received his master's degree and Ph.D. in chemistry from ESF in 1969 and 1972, respectively.
After receiving his Ph.D. from ESF's Department of Environmental and Forest Biology in 1989, Yoshimura achieved a number of important professional accomplishments.
His dissertation on how chance influences the evolutional process and ecological systems is still widely cited today. His recent work on the evolution of periodic cicadas has received much attention in the world of entomology and evolutionary ecology.
Yoshimura, who traveled from Japan to attend the ceremony, told graduates how one of his great joys was chasing butterflies. "Here on campus or at Lafayette Road, I could chase butterflies for my Ph.D. … I hope all of you graduates do what you want to do and pursue what you like."
Recent ESF News
News Archives
Communications & Marketing
SUNY-ESF
122 Bray Hall
1 Forestry Drive
Syracuse, NY 13210
315-470-6644