SHARE:
ESF Announces Commencement Weekend Activities
Slate of events celebrates students' success

5/5/2015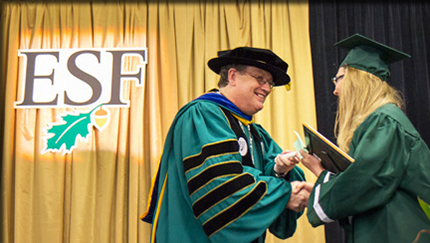 ESF will confer up to 566 degrees during Commencement exercises Saturday at the SRC Arena and Events Center.
During the ceremony, ESF will confer approximately 391 bachelor's degrees, with about 175 students receiving master's and doctoral degrees.
The college also awards associate in applied science degrees at The Ranger School in Wanakena. Twenty-five students in the forest technology program, 19 students in the environmental and natural resources conservation program and 11 students in the land surveying technology program will receive degrees during a ceremony 11 a.m. May 16 at Clifton-Fine School in Star Lake.
Commencement weekend festivities in Syracuse begin at 8 a.m. Saturday, May 9, with Honors Students' Convocation. Honors Convocation will be followed by curriculum-specific receptions for degree candidates, their guests and members of the ESF college community at 10 a.m.
The college's commencement will be at 1 p.m. Saturday, May 9, at the SRC Arena and Events Center, Allyn Hall Gym at Onondaga Community College. Bachelor's, master's and doctoral degree candidates will be honored.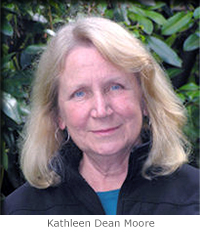 Dr. Kathleen Dean Moore, philosopher, nature writer and public speaker, will receive an Honorary Doctor of Humane Letters degree.
Moore's work brings together the art of the essay, the wisdom of the natural world, and the moral clarity of philosophy to explore our place on the planet and our responsibilities for its thriving. Her newest book, "MORAL GROUND: Ethical Action for a Planet in Peril," gathers testimony from a hundred of the world's moral leaders, who call us to honor our obligations to future generations.
Moore is best known as a nature writer, whose essays question and celebrate the cultural and spiritual connections to the Earth. Moore's nature books have won the Oregon Book Award, the Pacific Northwest Booksellers' Award, and the Sigurd Olson Nature Writing Award. Moore is Distinguished Professor of Philosophy at Oregon State University in Corvallis, where she teaches environmental ethics, philosophy of nature, and a variety of courses for OSU's new M.A. in environmental leadership.
At OSU, Moore is co-author of the new Environmental Humanities Initiative, which integrates science and humanities to provide leadership for complex times. She is the founding director of the Spring Creek Project for Ideas, Nature, and the Written Word.
During the ESF ceremony, departmental honors will be bestowed upon the top students in each of the college's discipline areas. Teegan Dolan of Morehead, Kentucky, will be the student speaker. Eleanor M. Coonce of Albuqueque, New Mexico, will present the class gift.
On Sunday, May 10, a continental breakfast for master's and Ph.D. candidates will be served at 7:30 a.m. in the Gateway Center. A recognition ceremony for advanced degree candidates begins at 7:45 a.m. The undergraduate continental breakfast will begin at 8 a.m. in Marshall Hall's Alumni Lounge.
Joint commencement exercises with SU will begin at 9:30 a.m. Sunday in the Carrier Dome. Class Marshals leading the ESF degree candidates in the Commencement procession are Dolan and Peter "PJ" Connell of Oceanside. Student Chancellor's Award honorees are Kristy Northrup of Marmora, New Jersey, and Connell.
Departmental scholars are Eric Stevens of Poughkeepsie (chemistry), Andrew Stillman of Clarence (environmental and forest biology), Northrup (environmental science), Laura Jenkins of East Syracuse (environmental studies), Cambria Ziemer of Boise, Idaho, (environmental resources engineering), Gena Morgis of Armonk (landscape architecture), Autumn Elniski of Buffalo (paper and bioprocess engineering), Caleb Cramer of Syracuse (sustainable construction management and engineering) and Jenny R. Frank of Merrick (forest and natural resources management).
Recent ESF News
News Archives
Communications & Marketing
SUNY-ESF
122 Bray Hall
1 Forestry Drive
Syracuse, NY 13210
315-470-6644