SHARE:
Forestry College Alumnus to Receive Medal of Honor
Army Sergeant William Shemin, class of 1924, to receive nationís highest honor

5/21/2015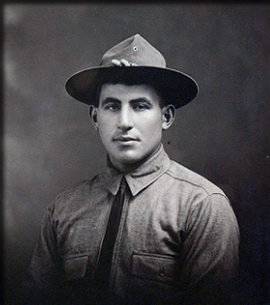 U.S. Army Sergeant William Shemin, an alumnus of the then-New York State College of Forestry and the Ranger School, will be awarded the Medal of Honor by President Barack Obama June 2.
Shemin will receive the Medal of Honor posthumously for his actions while serving as a member of Company G, 2nd Battalion, 47th Infantry Regiment, 4th Division, American Expeditionary Forces. Shemin distinguished himself during combat operations in the vicinity of the Vesle River, Bazoches, France, on Aug. 7-9, 1918.
Shemin entered the Army Oct. 2, 1917. He was assigned as a rifleman to Company G, 47th Infantry Regiment, which moved from Syracuse to Camp Greene, North Carolina, joining the 4th Infantry Division. The Division arrived in France in May 1918.
While serving as a rifleman from Aug. 7-9, 1918, Shemin left the cover of his platoon's trench and crossed open space, repeatedly exposing himself to heavy machine gun and rifle fire to rescue the wounded. After officers and senior non-commissioned officers had become casualties, Shemin, then 19 years old, took command of the platoon and displayed great initiative under fire, until he was wounded Aug. 9.
He received the Distinguished Service Cross for his bravery and heroism.
Shemin was a member of the class of 1914 at the Ranger School. He was employed as a state ranger and as assistant city forester in Bayonne, New Jersey, before enlisting in the Army. After the war, he attended ESF, then called the New York State College of Forestry, graduating in 1924. As was the practice at the time, his diploma bears the name of both the College of Forestry and Syracuse University. Upon graduation, he started a greenhouse and landscaping business in the Bronx, where he and his wife raised three children.
His daughter, Elsie Shemin-Roth of Missouri will accept the honor on her father's behalf. Shemin-Roth worked for numerous years to ensure her father received the nation's highest honor for personal acts of valor above and beyond the call of duty.