SHARE:
ESF Welcomes Strong Class for Fall 2015
Orientation events kick off academic year

8/21/2015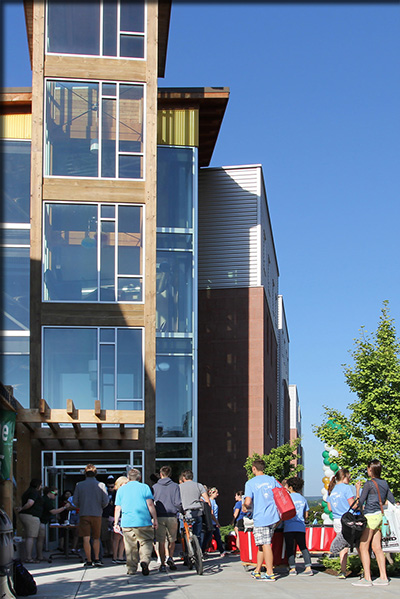 The SUNY College of Environmental Science and Forestry (ESF) is ready to welcome approximately 320 first-year students on campus this fall, making it one of the largest classes to ever enter ESF.
Along with the first-year class, more than 230 transfer students will be entering the college when students arrive on campus beginning Aug. 25. The combined number of new first-year and transfer students is expected to meet or exceed the college's goal for 550 new undergraduates, according to Dr. Robert French, vice president for enrollment management and institutional research.
Enrollment at the college's Ranger School in Wanakena, New York, is 62 this year, higher than it has been in many years.
A record 24 percent of the first-year class will come from outside New York state, along with approximately 9 percent of new transfer students, maintaining ESF's position as one of the most geographically diverse campuses in SUNY, said French.
Student quality is again expected to be exceedingly strong. College entrance examination (SAT/ACT) scores and high school grade averages are expected to be higher than last year's very strong class. The "typical" ESF student will have earned a high school average of 92 percent, be ranked in the top fifth of his/her class and reported SAT scores in the top 25 percent of students tested nationally, according to French. The cumulative college GPA for entering ESF transfer students is also expected to exceed the 3.15 level reached by the fall 2014 class.
On the graduate level, ESF is planning for the arrival of 125 new graduate students for the 2015-16 academic year bringing graduate school enrollment to approximately 455 students.
New students and their families will be greeted by a full slate of orientation events beginning Aug. 25. Along with moving into Centennial Hall, undergraduate students will participate in a number activities to get them acclimated to the college and surrounding community. On Saturday, Aug. 29, the students will engage in community service projects throughout the Syracuse area.
Classes begin Aug. 31.
Recent ESF News
News Archives
Communications & Marketing
SUNY-ESF
122 Bray Hall
1 Forestry Drive
Syracuse, NY 13210
315-470-6644