SHARE:
Forbes Ranks ESF 23rd among America's Best College Buys
Rankings focus on investment in education value received

8/17/2010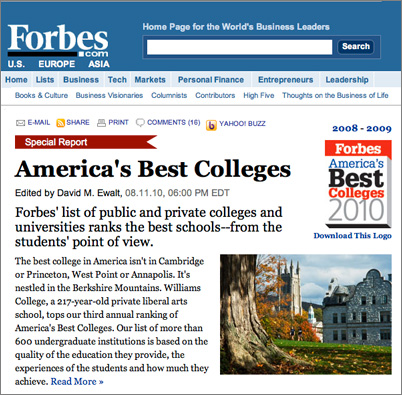 Forbes Magazine places the SUNY College of Environmental Science and Forestry (ESF) at No. 23 in its listing of "America's Best College Buys" for 2010.
The rankings at the Forbes.com web site focus on the investment that students and families make in a college education, and the value they receive in return. Forbes asked the Center for College Affordability and Productivity, a Washington-based think tank, to compile the rankings based on five weighted criteria areas:
' Student satisfaction (weighted 27.5 percent) based on student evaluations from RateMyProfessor.com, freshman-to-sophomore retention rates and student evaluations from MyPlan.com
' Postgraduate success (weighted 30 percent) based on salary of alumni from Payscale.com, listings of alumni in Who's Who in America and alumni in the Forbes/CCAP Corporate Officers List
' Student debt (weighted 17.5 percent) based on four-year debt load for a typical student borrower and student loan default rates
' Four-year graduation rate (weighted 17.5 percent) based on actual four-year graduation rate and predicted vs. actual four-year graduation rate
' Competitive student awards (weighted 7.5 percent) based on National Science Foundation fellowships, Truman Scholarships, Rhodes Scholarships, Goldwater Scholarships, etc.
These five criteria areas have not been commonly used in other college rankings, which most often depend upon data that are self-reported by college officials. Forbes wanted to develop a ranking system that used other available sources to assess student and faculty achievement, alumni success, student reaction to professors, debt burdens, and the likelihood of graduating on time.
The Forbes 2010 Best College Buys ranking is the second time in recent years that ESF has been recognized as one of the magazine's top picks.
Forbes.com also provides a ranking of the top 569 colleges and universities in the U.S., including both public and private institutions, and ranks ESF No. 189 on that list for 2010.
Recent ESF News
News Archives
Communications & Marketing
SUNY-ESF
122 Bray Hall
1 Forestry Drive
Syracuse, NY 13210
315-470-6644