SHARE:
SUNY-ESF Honored for Community Service
2007 Presidentís Higher Education Community Service Honor Roll

2/22/2008
SYRACUSE — ESF was recognized for its exemplary student community service and service-learning programs by being named to the President's Higher Education Community Service Honor Roll for 2007.
The Honor Roll is a program of the Corporation for National and Community Service, and is sponsored by the President's Council on Service and Civic Participation, the USA Freedom Corps, and the U.S. Departments of Education, and Housing and Urban Development.
This is the second time the college was placed on the honor roll, as the college was listed in 2006.
ESF's Service Learning Initiative has been improving the student experience and contributing to local communities. The college continues to expand the scope of its service learning initiative with increased community involvement.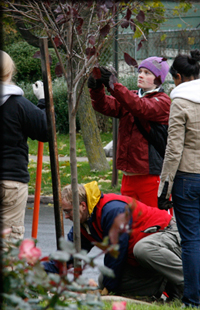 Faculty use service learning to give students hands-on experience and community service helps students clarify their career goals by affirming their chosen path or introducing them to new possibilities.
Students contributed more than 65,000 hours through the service learning initiative and community service in 2006-2007.
Launched in 2006, the Community Service Honor Roll is the highest federal recognition a school can achieve for its commitment to service-learning and civic engagement. Honorees for the award were chosen based on a series of selection factors including scope and innovativeness of service projects, percentage of student participation in service activities, incentives for service, and the extent to which the school offers academic service-learning courses.
---
Recent ESF News
News Archives
Communications & Marketing
SUNY ESF
122 Bray Hall
1 Forestry Drive
Syracuse, NY 13210
Communications@esf.edu