SHARE:
Ryan Caldwell Earns First Team All-American Honors
Team captain also named HVIAC Player of the Year

3/6/2017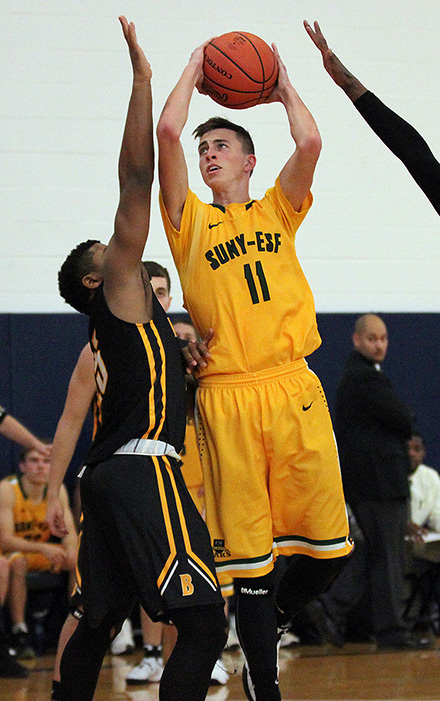 Mighty Oaks men's basketball Captain Ryan Caldwell ended his stellar senior year with one more prestigious distinction - a first team All-American award from the USCAA.
Caldwell is the first player in Mighty Oaks basketball program history to receive the honor. Last year, he earned All-American honorable mention from the USCAA.
During the 2016-17 season, Caldwell averaged 21.4 points per game and 11 rebounds per game, leading ESF to its first winning record in program history. The Mighty Oaks finished the season ranked No. 11 on the USCAA power rankings.
Caldwell also earned a long list of honors this past season. He was named the Hudson Valley Intercollegiate Athletics Conference (HVIAC) Player of the Year along with being named the HVIAC Player of the Week four times during the season. Caldwell scored 36 points, a program record for most points in a game, and had 17 rebounds in a 88-87 overtime win vs. Paul Smith's College Nov. 13. He also became the first player in program history to score 1,000 points, a feat he achieved Jan. 28 in a 30-point effort against Vaughn College. Caldwell finished with 1,114 career points and 601 total rebounds during his four years with the Mighty Oaks.
"It has been a honor to coach Ryan and to see him develop. As a high school senior he didn't receive a lot of playing of time but we could see his potential. He is super coachable and worked day and night to improve his game and eventually become one of the best players in all of USCAA Division II. I'm proud of him and what he has become. Ryan and his fellow seniors have helped put ESF on the proverbial map of USCAA basketball," said Head Coach Scott Blair.
Caldwell established himself as one of the most versatile players in ESF basketball history. The Liverpool, New York, native will graduate in May with a degree in sustainable energy and management.
Recent ESF News
News Archives
Communications & Marketing
SUNY-ESF
122 Bray Hall
1 Forestry Drive
Syracuse, NY 13210
315-470-6644