SHARE:
Knothole Goes Live!
On the web in full color

4/4/2008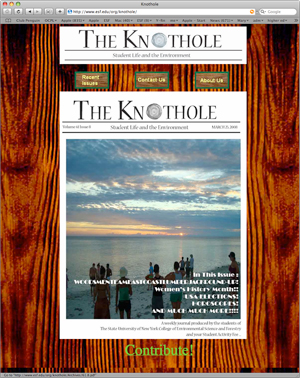 ESF's student-run newspaper, The Knothole, has recently decided to go live and interactive. Professor Patrick Lawler, faculty advisor for The Knothole, has been interested in publishing on the web for quite some time, and made the initial push this winter to get The Knothole online. It went live April 1st.
You can visit the new website at www.esf.edu/org/knothole.
The staff at The Knothole has expressed hopes that publishing The Knothole online will make it much more accessible to students and the wider community, and help increase visibility of the many events and developments on the ESF/SU campus.
Additionally, the new medium will allow for spectacular photography and a new level of interconnectivity previously unavailable with traditional forms of circulation.
Contact information:
Editor-in-Chief: Tina Notas: Tina.Notas@gmail.com
Web Editor: Craig Lazzar: clazzar@syr.edu
Faculty Advisor: Patrick Lawler: pjlawler@esf.edu
Recent ESF News
News Archives
Communications & Marketing
SUNY ESF
122 Bray Hall
1 Forestry Drive
Syracuse, NY 13210
Communications@esf.edu