SHARE:
ESF Honors 149 December Graduates
Convocation Yields Final Graduates of ESF's First Century

12/13/2010

They are the last graduates of ESF's first century.
The College conferred 149 degrees Saturday upon students as they crossed the stage during the annual December Convocation at Hendricks Chapel. Three distinguished alumni were also recognized: James B. Breuer '72, Howard "Bud" Ris '75 and the late Robert Sand '50.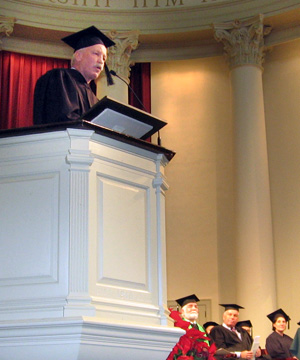 Breuer is president of Hueber-Breuer Construction Co., which has spearheaded and developed many projects throughout the greater Syracuse area since the late 1800s. One of the company's latest projects comes full circle with ESF, as Breuer told the graduates he is involved in constructing Centennial Hall, the College's first residence hall that was named as ESF gears up to celebrate 100 years of science and forestry education.
"My bed was through a closet and into the eave of an old roof. And my closest friends were the old knob and tube electrical wires that ran directly above my head!" Breuer told the graduates, reminiscing about his college days. "It is with significant pride that Hueber-Breuer and I are personally involved in the development and construction of Centennial Hall."
Ris is the president of the New England Aquarium in Boston. After graduating from ESF in 1975 with a Master of Landscape Architecture degree, he joined the Union of Concerned Scientists in Massachusetts, helping the organization expand from a small group of scientists focused on nuclear arms control to a multi-issue environmental organization. He offered some advice to the graduates.
"I have three tips for you," he told them. "First, if you want to have credibility, good science is essential. And you have a good foundation here. Secondly, communication is also essential. Use every possible electronic medium available to you, like Twitter and other outlets. And lastly, don't just focus on the problems. People really don't want to hear about doom and gloom. They want to know about the solution. Don't just wring your hands; roll up your sleeves and get to work."
Sand was recognized posthumously at the convocation with the Lifetime Achievement Award. Sand, a 1950 graduate of the then-College of Forestry, worked as a forester, helping to improve forestry practices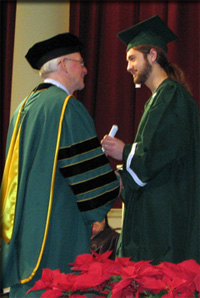 in New York state. He was remembered as a true friend, faithful supporter of the College and superlative forester.
ESF President Cornelius B. Murphy, Jr., encouraged the graduating class to take the helm in educating the world about practicing green initiatives.
"You're beginning to see the green tide in the sea of change in infrastructure projects all over the U.S. In this, you will lead New York state. You will lead us," he told them.
Two of those future leaders are Danielle and Jessica Zeller. The twin sisters have their degrees in natural history and interpretation. Both realize breaking into their field of study will be a challenge, especially with the wavering economy. But they remain optimistic.
"I really have a lot of confidence in my major," Danielle said. "The job market isn't too good right now. I know that. But I know that eventually it's going to turn around and I'm going to be prepared with what I've learned to have a great career."
By Joleene D. Des Rosiers
Recent ESF News
News Archives
Communications & Marketing
SUNY-ESF
122 Bray Hall
1 Forestry Drive
Syracuse, NY 13210
315-470-6644