SHARE:
SUNY-ESF Faculty, Staff Honored by Chancellor
Cheryl S. Doble, Christopher Nowak & John Turbeville

5/13/2008
SYRACUSE - Three employees of the SUNY College of Environmental Science and Forestry (ESF) were honored by Interim Chancellor Dr. John B. Clark for their service to the State University of New York.
Associate Professor Cheryl S. Doble received the Chancellor's Award for Excellence in Faculty Service. The award recognizes the consistently superior service contributions of teaching faculty. Doble, a faculty member in the Department of Landscape Architecture since 1993, specializes in community planning and design, citizen participation, and site planning and design graphics.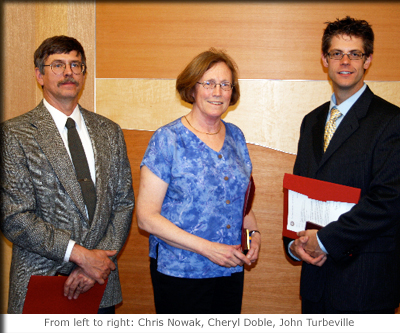 She established the Center for Community Design Research (CCDR) within ESF's Department of Landscape Architecture. The CCDR is an outreach program that works in partnership with communities, and other academic programs, to provide technical assistance, educational programs, and research projects that build community capacity to manage sustainable futures.
Dr. Christopher Nowak, associate professor in the Department of Forest and Natural Resources Management, was honored with the Chancellor's Award for Excellence in Teaching. This award honors those who consistently have demonstrated superb teaching at the undergraduate, graduate or professional level.
Since joining the ESF community in 1998, Nowak has provided a rigorous professional approach in the classroom and field, facilitating a positive learning experience for students and promoting intellectual dialog. He regularly teaches both undergraduate and graduate courses in forest science including forest ecology and silviculture, Adirondack forest ecology and dendrology, and forest vegetation management, as well as focused seminars in forest ecology.
John Turbeville received the Chancellor's Award for Excellence in Professional Service. The award recognizes consistently superior professional achievement within and beyond the position and those who serve as professional role models for a university system in the pursuit of excellence.
Turbeville is coordinator of experiential learning and the Academic Success Center and has been at ESF since 2002. He was a driving force behind the establishment of ESF's new Academic Success Center that focuses on tutoring, academic guidance, and mentoring for undergraduate students.
"These awards acknowledge and honor SUNY faculty members who are truly the best of the best," said Clark. "The Awards for Excellence are particularly rewarding for those chosen because they have been nominated by their colleagues on campus and viewed as role models among their peers."
Recent ESF News
News Archives
Communications & Marketing
SUNY-ESF
122 Bray Hall
1 Forestry Drive
Syracuse, NY 13210
315-470-6644