SHARE:
Mighty Oaks USCAA National Recap
Men's, women's XC finish second overall; women's soccer play in national championship game

11/14/2019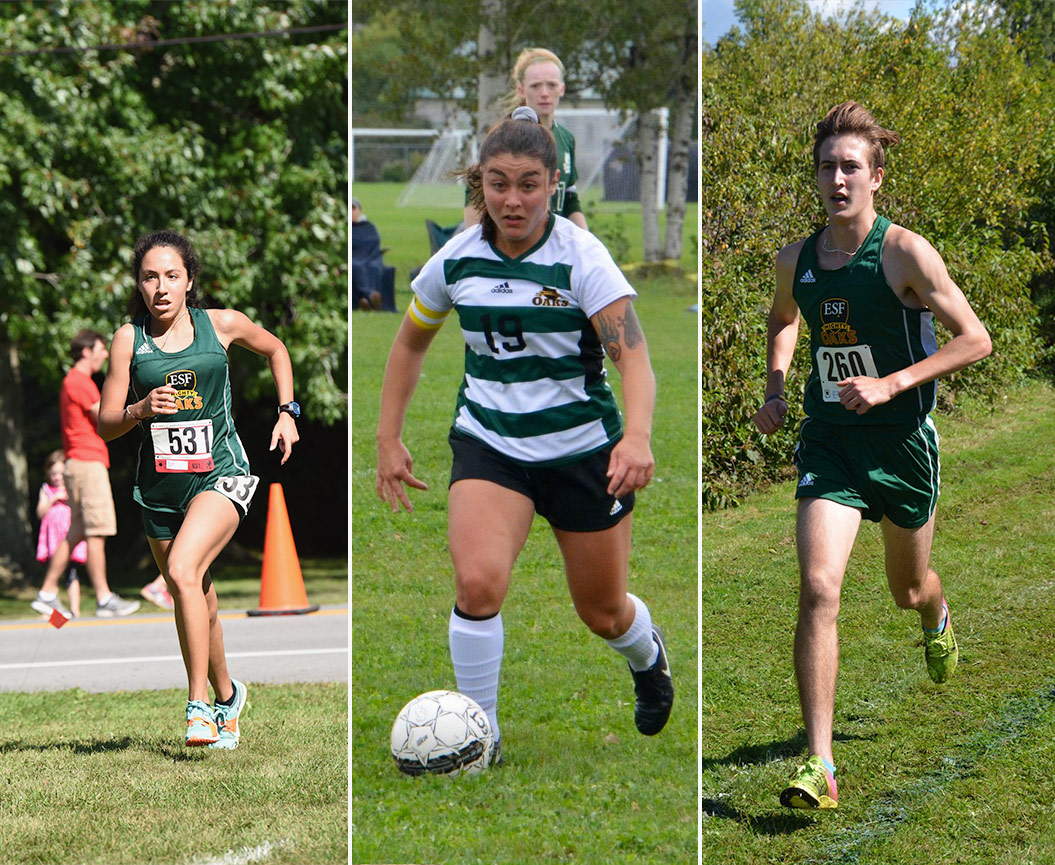 More than 40 ESF student-athletes traveled to Virginia Beach, Virginia for the 2019 USCAA National Championships Nov. 8-11.
The men's and women's cross country teams both finished in second place overall in the USCAA cross country national championship race.
Freshman Abby Perez led the women's team with fifth place overall finish and a time of 23:50 in the 6K race. Sophomore Cassidy Engleson finished eighth overall with a time of 24:12. Junior Erin Cocca rounded off the top 10 with a 10th place finish and a time of 24:19. Perez made first-team All-American while Engleson and Cocca earned second-team All-American honors.
Over 90 runners from 12 schools participated in the race. Saint Mary-of-the-Woods College was the overall winner.
In the men's race, freshman Matthew Tripp continued his stellar season with a second-place overall finish with a time of 26:00 in the 8K race. Junior Mark McClenahan placed fifth overall, his best finish ever at the USCAA Nationals, with a time of 27:04. Freshman Simon Seidl finished 10th overall with a time of 27:22.
Tripp and McClenahan both garnered first-team All-American honors while Seidl was named a second-team All-American.
SUNY Delhi repeated as national champions once again. The race featured more than 100 runners from 14 different schools.
"The women performed very well despite having injuries to our top runners. The men did everything we asked them this season and put a real scare on a great Delhi team. To have five guys finish under 28 minutes was our goal," said Mike Melfi, men's and women's cross country head coach.

On the soccer field, the women's soccer secured a second seed overall in the women's division II national championship tournament. In their first match of pool play, ESF defeated Warren Wilson College, 2-0. Junior midfielder Lindsay Eberhart scored both goals for ESF. ESF outshot the Owls 16-5 during the game. In their next match, the Mighty Oaks ground out a 2-0 win over Johnson & Wales College of North Carolina. In a game that featured four yellow cards and 12 fouls, ESF was able to again outshoot their opponent, 13-3. Junior keeper Lauren Claeys led ESF with one save in the shutout win. Freshman Abby Thomas scored first for ESF at the 21-minute mark of the first half. Senior Marissa Pompeii added another goal to ensure the win at the 57-minute mark of the second half.
With the two wins in pool play, ESF qualified for the national championship game for the first time since 2016. In the championship game, ESF faced defending champs University of Cincinnati Clermont. The Cougars dominated in pool play outscoring their opponents 8-4. At the start of the game, ESF controlled possession for the first 10 minutes, however, both teams felt the fatigue of two games in two days. Play was mostly conservative for both teams in the first half. Cougars midfielder Tara Claus got Clermont on the board with a goal at the 57th-minute of the second half. Cincinnati added another goal off a breakaway three minutes later to go up 2-0. ESF fought hard and tried to equalize the score but wasn't able to get any direct shots on goal. Claeys made seven saves in the losing effort.
The women finished their season with a winning 13-3 record. The women's soccer program has compiled 50-16 record over the past five seasons including five straight trips to the USCAA national championships, two national championship runner-up and several conference championships.
Recent ESF News
News Archives
Communications & Marketing
SUNY-ESF
122 Bray Hall
1 Forestry Drive
Syracuse, NY 13210
315-470-6644