SHARE:
ESF Graduates Advised: Turn Your Passion into Purpose
ESF celebrates December commencement

12/6/2019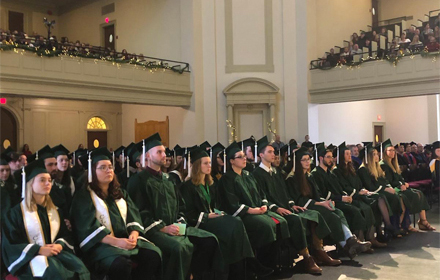 "Many things make ESF special, in particular, the dedication of the faculty and staff, but everyone will tell you that it is the students that really define us and make us unique: you have heart with head, are proud yet humble, have experienced the field and the lab, you are huggers and hunters, and you are elite but not elitist," said Dr. David Amberg, ESF's interim president during December Commencement exercises.
Amberg's remarks were part of the ceremonies Friday at Hendricks Chapel that celebrated the accomplishments of the College's newest graduates. The College conferred 165 degrees, including 45 master's degrees and nine Doctor of Philosophy degrees. The ceremony also included the presentation of three Graduate of Distinction Awards.
"This world desperately needs you because in aggregate you are uniquely trained to address and develop solutions to deal with the challenges presented by a changing planet," Amberg told the graduates. "I believe this is why you came to ESF. Now it is time for you to go out into that world and turn your passion into purpose; to practice your craft to help build a resilient world."
Student Speaker Ceora Gibson reminded her fellow graduates that throughout their lives they will meet people who will support them, and some that won't. "It is important to remember that regardless of what either of them says, you have to stay true to who you are and to what makes you happy. Don't focus on what others expect you to become. "
"It doesn't matter where you came from but where you are going," Gibson said. "Even if you have no idea what tomorrow has in store for you, just take your time, never lose hope because little by little becomes a lot and you'll be surprised by what you're capable of."
Three alumni were also honored during commencement. Graduate of Distinction Awards were bestowed upon Nikita Lopoukhine '68, John Anlian '73 and Roseana Burick '06.
"Your diploma is a testament that you are qualified to help the world locally and globally through your future employment, personal life and volunteerism," said Lopoukhine, Graduate of Distinction Lifetime Achievement honoree. "Your science-based education must be used to dispute false claims and misinformation. Dedicate yourself to the challenge of combating climate change … Your diploma gives you authority to speak truth to power. The world desperately needs outspoken leaders with your qualifications. Become a leader and make past and future Stumpies proud."
Recent ESF News
News Archives
Communications & Marketing
SUNY-ESF
122 Bray Hall
1 Forestry Drive
Syracuse, NY 13210
315-470-6644