SHARE:
ESF Receives STARS Silver Rating for Sustainability Achievements
President calls students 'creative and passionate force' for success

4/28/2011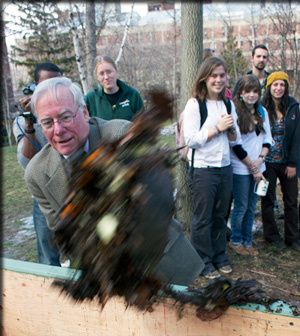 The SUNY College of Environmental Science and Forestry (ESF) has received a STARS Silver Rating in recognition of its sustainability achievements from the Association for the Advancement of Sustainability in Higher Education (AASHE).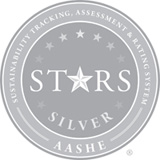 STARS, the Sustainability Tracking, Assessment & Rating System, is a new program that measures and encourages sustainability in all aspects of higher education.
"We are proud of the progress the College has made in all areas of sustainability, but we are most proud of the fact that it is our students who are the creative and passionate force behind so many of our successes," said ESF President Cornelius B. Murphy, Jr. "ESF has committed to carbon neutrality by 2015; the STARS program is an integral part of that effort."
ESF's plan to eliminate its carbon footprint by 2015 uses a combination of energy conservation, alternative energy projects, new construction that focuses on energy-efficient design and innovative heat-and-power systems, action to engage the College community in reducing waste, and forest carbon sequestration centering on design and management of ESF's forested properties.
"Two of our graduate students, Andrea Webster and Hannah Morgan, were instrumental in preparing the material that resulted in the STARS Rating. It was an undergraduate student, Justin Heavey, who synthesized our Climate Action Plan," Murphy said. "We look forward to our students continuing to help drive the process as we make further progress in our sustainability efforts."
AASHE's STARS program is the only one of its kind that involves publicly reporting comprehensive information related to a college or university's sustainability performance. Participants report achievements in three overall areas: education and research; operations; and planning, administration and engagement.
"STARS was developed by the campus sustainability community to provide high standards for recognizing campus sustainability efforts," said AASHE Executive Director Paul Rowland. "ESF has demonstrated a substantial commitment to sustainability by achieving a STARS Silver Rating and is to be congratulated for their efforts."
Unlike other rating or ranking systems, this program is open to all institutions of higher education in the United States and Canada, and the criteria that determine a STARS Rating are transparent and accessible to anyone. Because STARS is a program based on credits earned, it allows for both internal comparisons as well as comparisons with similar institutions.
Recent ESF News
News Archives
Communications & Marketing
SUNY-ESF
122 Bray Hall
1 Forestry Drive
Syracuse, NY 13210
315-470-6644