SHARE:
Biotechnology Symposium Draws 140 Attendees
22 organizations participate

6/14/2011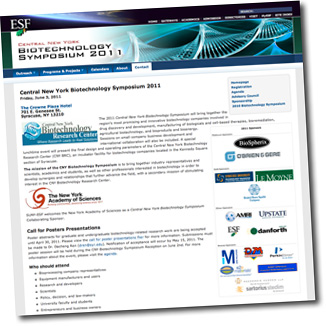 The Central New York Biotechnology Symposium hosted June 3 by ESF Outreach brought together 22 of the region's most promising and innovative biotechnology organizations and 140 enthusiastic attendees.
The mission of the symposium was to connect industry representatives and scientists, academics and students, and other professionals interested in biotechnology to develop synergies and relationships that further advance the field. Additional goals of the symposium included stimulating interest in the CNY Biotechnology Research Center, opening in Syracuse in 2012, and considering the future of biotechnology and its effects on the Central New York economy.
This year's symposium at the Crowne Plaza Syracuse Hotel focused primarily on the use of biotechnology to improve health care and the environment. The keynote speakers, Onondaga County Executive Joanne M. Mahoney and Edward Reinfurt, director of the Division of Science, Technology and Innovation with Empire State Development, presented on the topic, "Cultivating Economic Growth in Central New York." Subsequent presentations included subjects such as Drug Discovery and Development, Bioremediation and Environmental Cleanup, and Starting Your Own Biotechnology Company in Central New York: Legal, Business, and Funding Issues.
Dr. John Fieskchko, faculty chair of the Biotechnology Symposium Advisory Council, executive director of the CNY Biotechnology Research Center and professor in the SUNY-ESF Department of Paper and Bioprocess Engineering, organized the event and was supported by an advisory council consisting of academic and industry representatives from ESF; Le Moyne College; Roswell Park Cancer Institute; Mackenzie Hughes, LLP; SUNY Upstate Medical University; The Tech Garden; Bristol-Myers Squibb; AMRI; and Syracuse University.
Information regarding the 2012 Biotechnology Symposium will be posted on the ESF web site when it is available.