Chittenango Ovate Amber Snails Released at Chittenango Falls State Park

9/25/2020
SHARE: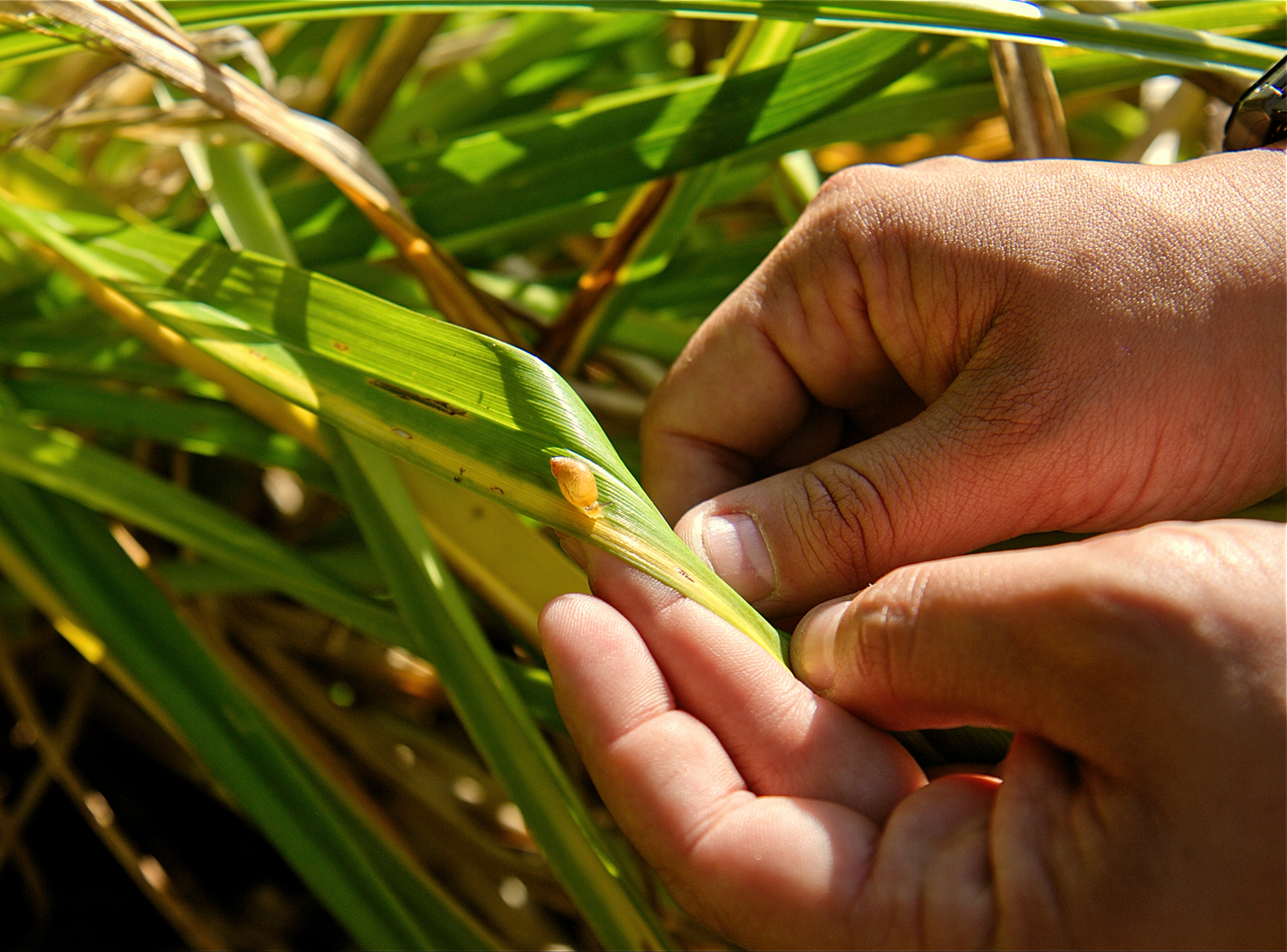 Chittenango ovate amber snails (COAS), a captive-bred endangered landsnail, were released at Chittenango Falls State Park Sept. 25. The individuals released were raised in a SUNY College of Environmental Science and Forestry (ESF) laboratory. COAS is known only from one location at the Central New York state park.
"The release of these special little snails is timed to coincide with National Public Lands Day, a day that celebrates the importance of environmental stewardship, and the connection between people and green spaces," said Dr. Rebecca J. Rundell," COAS project lead. "This is an incredibly rewarding project for many reasons. The opportunity to support such a tiny, yet important part of our ecosystem, is meaningful. Our success is rooted in solid partnerships with visionary organizations committed to the well-being the environment. And this project is driven by the talent, energy, and passion of ESF students and alumni, who are tireless."
Marking the snails prior to their release in the wild helps the team track these snails in the future and better understand whether the release was successful. At Chittenango Fall State Park, staff are also involved with restoring the habitat, and making sure visitors do not accidentally stomp on the tiny snails. Another ESF alumnus now working with Parks, Delaney Kalsman, has been focused on this work all summer, and has gotten to know COAS, which is named for its beautiful egg-shaped, amber-colored snail shell.
COAS is a land snail that survives exclusively near the waterfall at Chittenango Falls State Park. Because of the rarity and vulnerability of its wild population, COAS conservation has brought together a team of organizations and concerned citizens. These groups include the U.S. Fish and Wildlife Service (USFWS), New York State Department of Environmental Conservation (NYSDEC), New York State Office of Parks, Recreations, and Historic Preservation (Parks), Rosamond Gifford Zoo in Syracuse, and Seneca Park Zoo in Rochester.
Led by Rundell, two populations were being bred in captivity for eventual release. One population was maintained on the ESF campus; the second was housed at the Rosamond Gifford Zoo. During the COVID-19 pandemic, the research team combined the ESF and zoo snails into one lab, where their care and breeding is currently being overseen by ESF graduate student and budding snail expert Emlyn Clark. Funding primarily comes from the Great Lakes Restoration Initiative through the USFWS.
"A dedicated team of volunteers and staff, affectionately known as the 'Snailblazers,' also contributes to COAS's snaily cause," Rundell said.
"We're really lucky to have an animal as unique as the fingernail-sized Chittenango ovate amber snail in Central New York," said USFWS species lead and ESF alumnus Robyn Niver. "Working with a species as rare as this is challenging, so having a great team like the Snailblazers has been key to the achievements we've seen so far."
Tom Hughes, New York State Parks Biologist and ESF alumnus adds, "It is additionally important that we continue to reach out and educate our park patrons about the COAS and the other rare species found at Chittenango Falls State Park, including the American hart's-tongue fern. The success of our stewardship efforts and rare species protection relies greatly on public awareness and participation, and I'm excited that we will be doing this release as part of National Public Lands Day."
Tony Wilkinson, Director of DEC's Division of Fish and Wildlife, said, "This release of the captive reared snails is another step in the right direction for the COAS. The focus of science, public education, and state, local, and federal stewardship places this species in the best position for continued existence since it was listed as Endangered by New York State in 1977."
ESF alumnus Cody Gilbertson developed a special approach to snail diet that led to successful long-term breeding of COAS in lab settings. This meant that additional COAS baby snails could mature in the lab and later be released to help the wild population. ESF alumnus Ashton Yost also cared for these little snails, including at the Rosamond Gifford Zoo, and contributed to COAS education efforts.
"Making sure the snails are feeding and staying healthy is no small feat," said Rundell. "We also rely on ESF grad Alyssa Whitbread, and undergraduates Toni Daino and Elona Tanski to help care for the snails. Over the years, many ESF students have contributed to this endangered species' conservation and research project, for example by collecting and sorting the various species of dead leaves that comprise the special diet of COAS."
Recent ESF News
News Archives
Communications & Marketing
SUNY-ESF
122 Bray Hall
1 Forestry Drive
Syracuse, NY 13210
315-470-6644