Faculty Profile


Paul Crovella
Associate Professor

219 Baker Lab
315-470-6839
plcrovella@esf.edu
Education
Ph.D. Environmental and Resource Engineering, State University of New York College of Environmental Science and Forestry, 2016.
M. Eng., Agricultural and Biological Engineering, Cornell University, 1990
B. Sc., Agricultural and Biological Engineering, Cornell University, 1989
Research Interests
The primary focus of my research is on sustainable and healthy buildings.
Sustainable Construction research includes:
Mass Timber construction - Focuses on the use of wood construction as a solution to the challenges of climate change. This includes studies on material properties of mass timber products, efficiency in the construction processes, and efficient structural systems.
Building Information Modelling - Focuses on the use of semantic-rich databases to improve the efficiency of new construction and retrofitting of existing buildings to reduce the impact on the environment.
Adaptive Reuse - Historical preservation - Focuses on the development of tools for non-destructive testing of existing timber structures to ensure their efficient reuse.
Healthy Building research includes:
Evidence-based design - Focuses on the impact of sustainable building features on the attitude and performance of the occupants
Deconstruction - Focuses on the impacts of building materials on the environment and surroundings.
More information about graduate studies (MPS, MS, and PhD) can be found at https://www.esf.edu/srm/graduate/scm/
Teaching
CME 304- Environmental Performance Measures for Buildings
CME 305 - Sustainable Energy Systems for Buildings
CME 306 - Engineering Materials for Sustainable Construction
CME 332 - Mechanical and Electrical Equipment
CME 342 – Light Construction
CME 404 - Applied Structures
CME 405 - Building Information Modeling for Construction Managers
ERE 596 - Seminar in Deconstruction
Selected Publications
Paul Crovella, William Smith, Jacek Bartczak, Experimental verification of shear analogy approach to predict bending stiffness for softwood and hardwood cross-laminated timber panels, Construction and Building Materials, Volume 229, 2019, 116895, ISSN 0950-0618, https://doi.org/10.1016/j.conbuildmat.2019.116895 .
Tinner, M., P. Crovella, & P. Rosenbaum (2018) Perceived Importance of Wellness Features at a Cancer Center: Patient and Staff Perspectives. Health Environments Research & Design Journal, Vol 11, Issue 3, pp. 80 – 93. https://doi.org/10.1177/1937586718758446
Crovella, P. & Kyanka, G. (2017) A non-destructive method to determine the rotational stiffness of timber frame connections., J Civil Struct Health Monit. https://doi.org/10.1007/s13349-017-0247-2 November 2017, Volume 7, Issue 5, pp 627–635
Crovella, P.L. and G. H. Kyanka 2016, Improving analysis of historic wooden structures through non-destructive testing of connections. Proceedings of the ASCE 2016 Construction Research Congress ,San Juan, Puerto Rico. 8 pp.
Crovella, P.L. and G.H. Kyanka 2013. Preserving timber structures with nondestructive evaluation of critical joinery. Proceedings of 18th International Nondestructive Testing and Evaluation Symposium. Madison, Wisconsin. 7pp.
Crovella, P. L. and G. H. Kyanka. 2011. Use of vibration techniques to determine the rotational stiffness of timber joints. Proceedings of the Structural Health Assessment for Timber Structures Conference. Lisbon, Portugal. 12pp.
Crovella, P.L. 2010. A Comparison of Techniques to Measure Commercial Building Infiltration Rates. IAQVEC 2010. Syracuse, NY. 8 pp.
Crovella, P L. and K.G. Gebremedhin. 1990. Analyses of light frame wood truss tension joint stiffness. Forest Products Journal, April 1990, 41-47.
Gebremedhin, K. G. and P. L. Crovella. 1990. Load distribution in metal plate connectors of tension joints in wood trusses. Transactions of the ASAE 34(1):281-7.
Crovella, P. L. and K. G. Gebremedhin. 1988. Improving wood truss design by optimizing metal plate connectors. ASAE Paper no. 88-45117. St. Joseph, MI. 19pp.
Gebremedhin, K. G. and P.L. Crovella. 1990. Analysis of light frame wood truss joints using an elastic foundation model. Proceedings of the International Timber Engineering Conference. Tokyo, Japan. 709-15.
Current Graduate Advisees

Carie-An Brutsman
cbrutsma@syr.edu
Degree Sought: PHD
Graduate Advisor(s): Crovella
Area of Study: Sustainable Construction Mgmt

Aayusha Chapagain
achapaga@syr.edu
Degree Sought: MS
Graduate Advisor(s): Crovella
Area of Study: Sustain Constr Mgt & Wood Sci
Personal Statement
I attained my Bachelor's degree in architecture from the Institute of Engineering, Tribhuvan University, Pulchowk Campus, Nepal. Over the course of my professional journey, I have worked as an architect in various architectural design firms. My research efforts are centered on exploring the concept of Biophilia and its integration into architectural settings. My aim is to actively contribute to the improvement of people's general well-being through the development of more enriching and sustainable architectural spaces.
Graduate Research Topic
Harmonizing Nature and Design: Exploring Biophilic Integration in Timber-Centric Architectural Spaces
Favorite Quote
"No house should ever be on a hill or on anything. It should be of the hill. Belonging to it. Hill and house should live together with each the happier for the other." ; "Buildings, too, are children of Earth and Sun." -Frank Llyod Wright
Shayan Mirzabeigi
smirzabe@syr.edu
Degree Sought: PHD
Graduate Advisor(s): Ahmadzaderazkenari and Crovella
Area of Study: FNRM Sustainable Construction Management
Links
Linkedln
Personal Statement
I received my previous graduate degree in Building and Architectural Engineering from Politecnico di Milano, in 2020. My master dissertation was about solar radiation and human comfort. I worked as a research intern at the research group SEEDLab for parametric analysis to define mitigation strategies for solar transmittance of existing ETFE envelopes. Moreover, I have obtained the Sustainable Building Design certificate from the Massachusetts Institute of Technology. My current research interests focus on energy efficiency in the built environment, urban energy and thermal stress simulation, human-building interaction, and built environment sustainability.
Graduate Research Topic
Integrated Building Envelope Assessment Towards Automation of Energy Retrofits: A Drone-based Approach
Favorite Quote
"What makes a building memorable? I believe it comes not from the glossy images in a magazine, but from the experiences of people who live, work, or pass through the interior spaces."- Gail S. Brager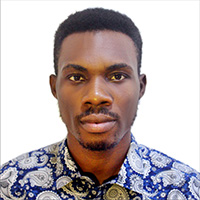 Olayinka Olaosebikan
onolaose@syr.edu
Degree Sought: MS
Graduate Advisor(s): Crovella
Area of Study: Sustain Constr Mgt & Wood Sci
LinkedIn
https://www.linkedin.com/in/olayinka-olaosebikan-808227137
Personal Statement
I graduated with a Bachelor's degree in Civil Engineering from the Federal University of Agriculture Abeokuta, Nigeria, I possess over 5years of field experience in construction and I am seeking to explore research in mass timber, circular construction, and sustainable materials.
Graduate Research Topic
Mass Timber, Circular Construction, Sustainable Energy in Buildings/Systems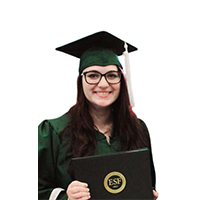 Giavanna Reed
gmreed@syr.edu
Degree Sought: MS
Graduate Advisor(s): Crovella
Area of Study: Environmental Science
Links
LinkedIn: https://www.linkedin.com/in/giavanna-reed-8132561bb
Personal Statement
I achieved my bachelor's degree in environmental science with a focus in renewable energy at SUNY College of Environmental Science and Forestry in May 2022. My capstone was on my work as an intern for NYSERDA on the Single-Family Residential team. My current research is on quantifying the benefits of renovating a building instead of demolishing and rebuilding. I am conducting an embodied carbon life cycle assessment and a whole building life cycle assessment to quantify these benefits.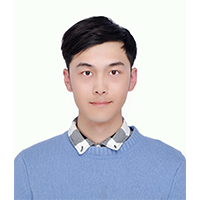 Baowen Zhang
bzhang13@syr.edu
Degree Sought: PHD
Graduate Advisor(s): Crovella
Area of Study: FNRM Construction Management
Personal Statement
I obtained my graduate degree in Systems Engineering from Stevens Institute of Technology, Hoboken, NJ, USA, in 2019. My earlier research explored enhancing water storage in urban green infrastructure and optimizing the service life of retaining walls. At present, my research is centered on the technologies, data, methodologies, and policies aimed at reducing energy consumption in multifamily building operations on an urban scale.
Graduate Research Topic
Energy modeling for building operations and intelligent recommendation systems for building retrofitting