Faculty Profile


Huiting Mao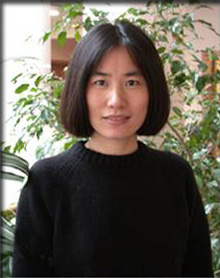 Huiting Mao
Professor and Associate Chair
420 Jahn Lab
My group webpage
https://huitingmao.weebly.com/
Dr. Huiting Mao's research interests include regional tropospheric chemistry and climate change, intercontinental transport of trace gases and aerosols, climate-air quality connections, biosphere-atmosphere exchange of trace gases, and radiative transfer processes. Her work on these topics has appeared in 90+ high-impact journal publications. She has conducted research on ozone chemistry, biogenic and anthropogenic contributions to volatile organic compounds in marine and terrestrial environments, continental export of ozone and its precursors, speciated mercury on regional to global scales, and impacts of climate change on air quality. Her group has been conducting long-term, continuous measurements of ozone, carbon monoxide, carbon dioxide, mercury, JNO2, and meteorological variables on on ESF campus since January 2013. She has also been investigating air pollution problems in East China through building an air quality observotary at Nanjing University in January 2011 and conducting field and long-term studies there. Much of her work has been supported by the NOAA-funded AIRMAP and Targeted Wind Sensing programs, EPA, NASA, NSF and NYSERDA.
Selected Most Recent Publications
Nie, X., H. Mao, P. Li, T. Li, J. Zhou, Y. Wu, M. Yang, J. Zhen, X. Wang, and Y. Wang (2020), Total Gaseous Mercury in a Coastal City (Qingdao, China): Influence of Sea-land Breeze and Regional Transport, Atmos. Environ., https://doi.org/10.1016/j.atmosenv.2020.117633.

Nie, X., Y. Wang, H. Mao, T. Wang, T. Li, Y. Wu, Y. Li, C. Hou, G. Qie, X. Feng, Z. Shang, and H. He (2020), Atmospheric mercury in an eastern Chinese metropolis (Jinan), Ecotoxic. Environ. Safety, 196, 110541.

Cheng, I., L. Zhang, H. Mao, Z. Ye, and R. Keenan (2020), Atmospheric chemistry of gaseous oxidized mercury at a coastal site in Atlantic Canada, J. Atmos. Sci., https://doi.org/10.1175/JAS-D-19-0120.1.

Meng, L., C. T. Driscoll, M. Montesdeoca, and H. Mao (2020), Effects of Brownfield Remediation on Total Gaseous Mercury Concentrations in an Urban Landscape, Sensor, 20(2), 387; doi:10.3390/s20020387.
For a full list of publications please follow this link.
If you want more information about the graduate program, please follow this link to a brief form
Current Graduate Advisees

Lin Wu
lwu127@syr.edu
Degree Sought: PHD
Graduate Advisor(s): Mao
Area of Study: FCH Environmental Chemistry