Faculty Profile


Francis Webster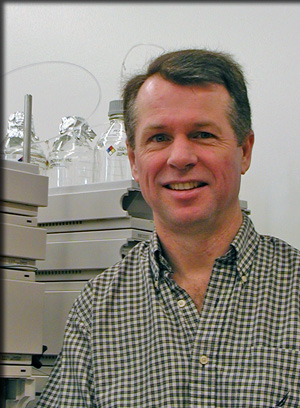 Francis Webster
Emeritus
317 Jahn Lab
Ph.D., 1986, SUNY College of Environmental Science and Forestry; Postdoctoral Fellow, SUNY Stony Brook, 1986-1987.
Francis Webster and his research group try to decipher how organisms communicate with one another using chemical signals. These studies on the chemical interactions of plants and animals with one another and with their environment are part of the growing field of chemical ecology. The research is conducted jointly with a team of biologists who carry out basic behavioral studies, bioassay samples to assist in locating the chemical signals, and field test synthetic samples to assess practical applications. Dr. Webster's research complements the biologists with the actual isolation, identification, and synthesis of the compounds involved in chemical communication. These signals typically include both insect and mammalian pheromones (communication between individuals of the same species), insect defense secretions, and plant anti-feedant compounds. The compounds isolated represent most major classes of natural products, and, often times, the isolated material is in microgram or submicrogram amounts. The synthetic chemistry conducted in Dr. Webster's group often tackles many challenging stereochemical problems, and the identification of trace natural compounds pushes the analytical instruments (NMR, GC-MS, and IR) to their limits. Computer programming for the purpose of using computers for structure elucidation and chromatographic analysis is a growing area of research in Dr. Webster's group.
Representative Publications
Nanogram-Scale Preparation and NMR Analysis for Mass-Limited Small Volatile Compounds, S. Nojima, D. J. Kiemle, F. X. Webster, C. S. Apperson and C. Schal, PLoS ONE 6: e18178 (2011).

Pheromone Trap for the Eastern Tent Caterpillar Moth, K. F. Haynes, J. Mclaughlin, S. Stamper, C. Rucker, F. X. Webster, D. Czokajlo, and P. Kirsch, Environmental Entomology 36:1199-1205 (2007).

Identification of the sex pheromone of the German cockroach, Blattella
germanica, S. Nojima, C. Schal, F. X. Webster, R. G. Santangelo, and W.
L. Roelofs, Science 307, 1104-1106 (2005).
Submicro Scale NMR Sample Preparation for Volatile Chemicals, S.
Nojima, D. J. Kiemle, F. X. Websterand W. L. Roelofs, Journal of
Chemical Ecology 30, 2153-2161 (2004).
Synthesis of the Female Sex Pheromone of the Citrus Mealybug,
Planococcus citri, L. C. Passaro and F. X. Webster, Journal of
Agricultural and Food Chemistry 52, 2896-2899 (2004).
Microparticle dispensers for the controlled release of insect
pheromones, A. J. Stipanovic, P. J. Hennessy, F. X. Webster, and Y.
Takahashi, Journal of Agricultural and Food Chemistry 52, 2301-2308
(2004).
If you want more information about the graduate program, please follow this link to a brief form
Current Graduate Advisees