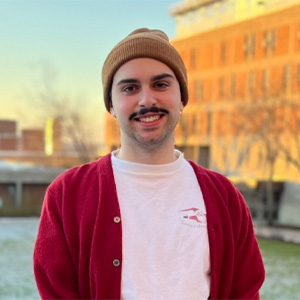 Mighty Oak Monday: Alex Paonessa
Major: Environmental Science
Hometown: Voorheesville, NY
Class of '23
Alex Paonessa is helping people see ESF through his camera lens.
His passion for photography didn't come into focus until the pandemic hit. Feeling at a loss for things to do, he started experimenting with his phone's camera while on hikes, taking nature shots. That piqued his interest in learning how to use digital and film cameras. And he officially caught the photo bug.
Now — as founder and president of the ESF Photography Club and intern with the College's Office of Marketing and Communications — Alex attends as many ESF events as his schedule can accommodate to document history and offer a glimpse of life as a Mighty Oak. His photos are used in the yearbook and on ESF's social media channels.
While he started the Photography Club primarily to provide a creative outlet for students, he's made an interesting discovery.
"Being behind the camera has helped me realize just how important the connection between photography and science is," he explained. "It's an important art form and record-keeping method. You're capturing specimen and specific moments. In some cases, it's the preferred method of documentation."
Alex took notice of professors using cameras in their research and original photography in their lectures. He shared the example of a dendrology class led by Dr. Don Leopold, who teaches students about tree species, ecological relationships, and natural history, and oftentimes uses original photography as reference.
Now Alex wants to use his photo skills to tell stories about climate change. He's particularly interested in environmental health and hopes to one day create a photo essay on black mold.