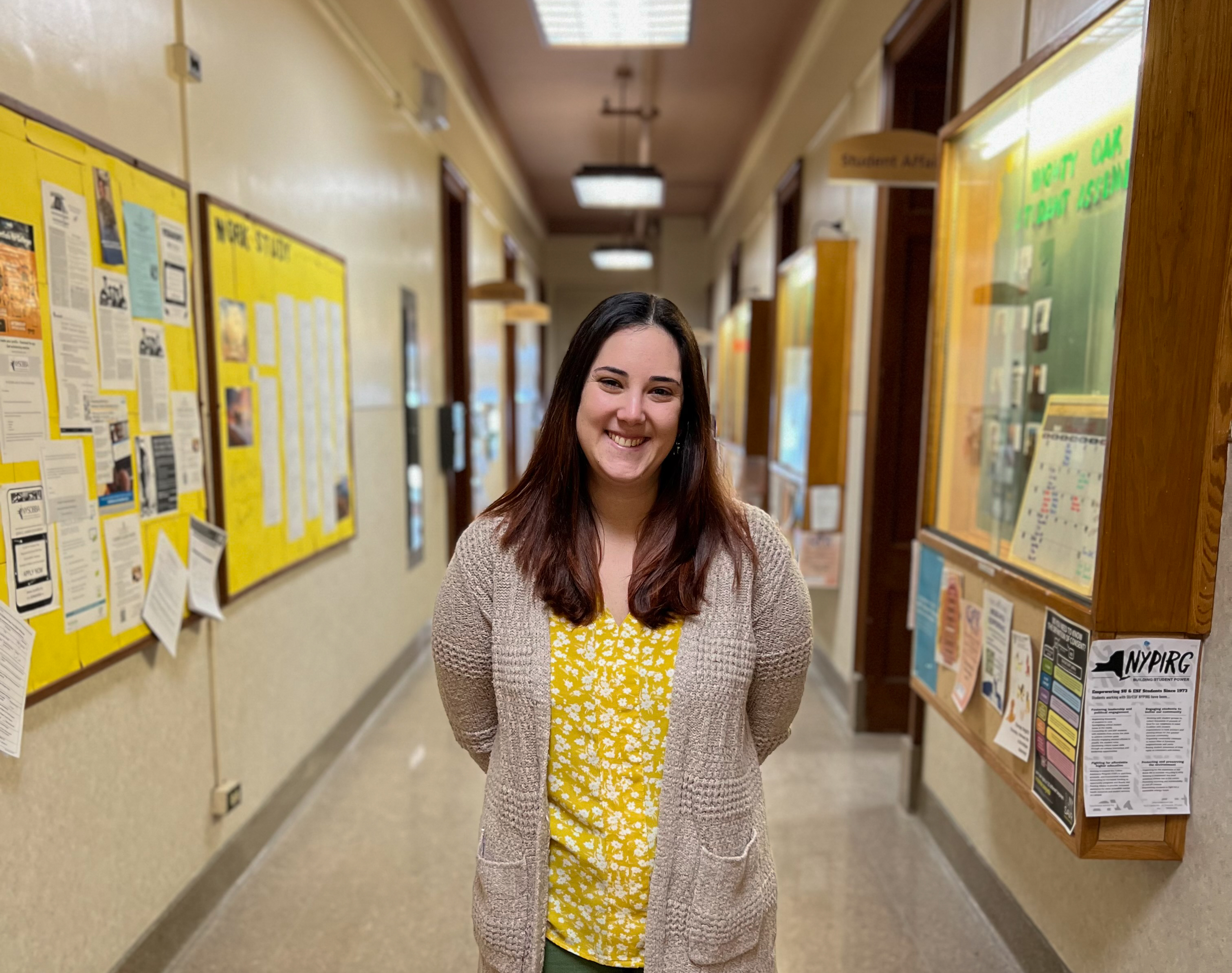 Staff Spotlight: Meredith Chase
Meredith Chase is the new Assistant Director of Career Services at ESF, where she provides students with personalized support to meet their career goals. She's excited to join ESF after working nearly eight years in career services.
"The amazing part of being a career services professional is that I get to be a part of the journey to so many different career paths," she said.
We caught up with Meredith to see how she's settling into her new role at ESF.

Q: Can you explain your role?
A: The overarching theme of my role is to provide direct support to students and working with faculty and staff on campus on various initiatives and programs. My responsibilities involve supporting ESF students and alumni with all aspects of their career development ranging from career exploration to preparing for internship, job searches and graduate school. I meet with students 1:1 and conduct presentations in classes and clubs. In addition, I manage our Career Fellowships Program, the Job Shadow Program and the student Peer Career Ambassador program.
Q: What would you like ESF students to know about you?
A: I would like them to know how excited I am to be here! I am someone who loves building strong connections, especially with students, and learning people's stories and backgrounds. I enjoy having conversations about strengths, interests, and values and where they want to go. I am a learner myself, so I enjoy being able to learn from others and expand my own understanding of the world.
Q: What students should be coming to Career Services and why?
A: Everyone should come to Career Services! We help students of all class years and programs, even alumni! We support all topics ranging from exploring careers related to your major/department, gaining experience/getting ready for next steps, networking, preparing for internships, jobs, graduate school, and more. Career Services strives to meet students where they are and be a support system and resource in helping them reach their goals.
It's never too early for students to participate and to build relationships. We have so many different types of opportunities in addition to all that is in Handshake ranging from career fairs to the Job Shadow Program to networking events and more!

Q: What's your favorite tree and why?
A: My favorite tree is a palm tree (especially those that are coconut trees). Growing up, we used to always visit my family in southern Florida, and it was one of my favorite places. Seeing palm trees reminds me of vacation and lots of memories.
Q: What's your favorite Trailhead order?
A: I absolutely LOVE the double chocolate chip muffins; they are the best muffins I have ever had! I also really enjoyed the Thanksgiving special back in November when I started; I got a plate full of turkey and sides that were incredible.