Hours of Operation: Monday-Friday from 5:00am-2:30pm
The Grounds Division office is located in the south eastern portion of campus, near P13/14 (between Walters Hall and Oakwood Cemetery). Grounds staff collects trash, recycling and compost from buildings, manages special recyclable items (ex: batteries and electronics), sets up events, moves furniture, and maintains the campus grounds.
Grounds Maintenance
ESF does not irrigate its grounds; however, staff does give extra care to newly planted trees. During the Fall of 2020, ESF partnered with Onondaga County's Save the Rain program and Onondaga Earth Corps to plant 45 trees (13 species) around P22.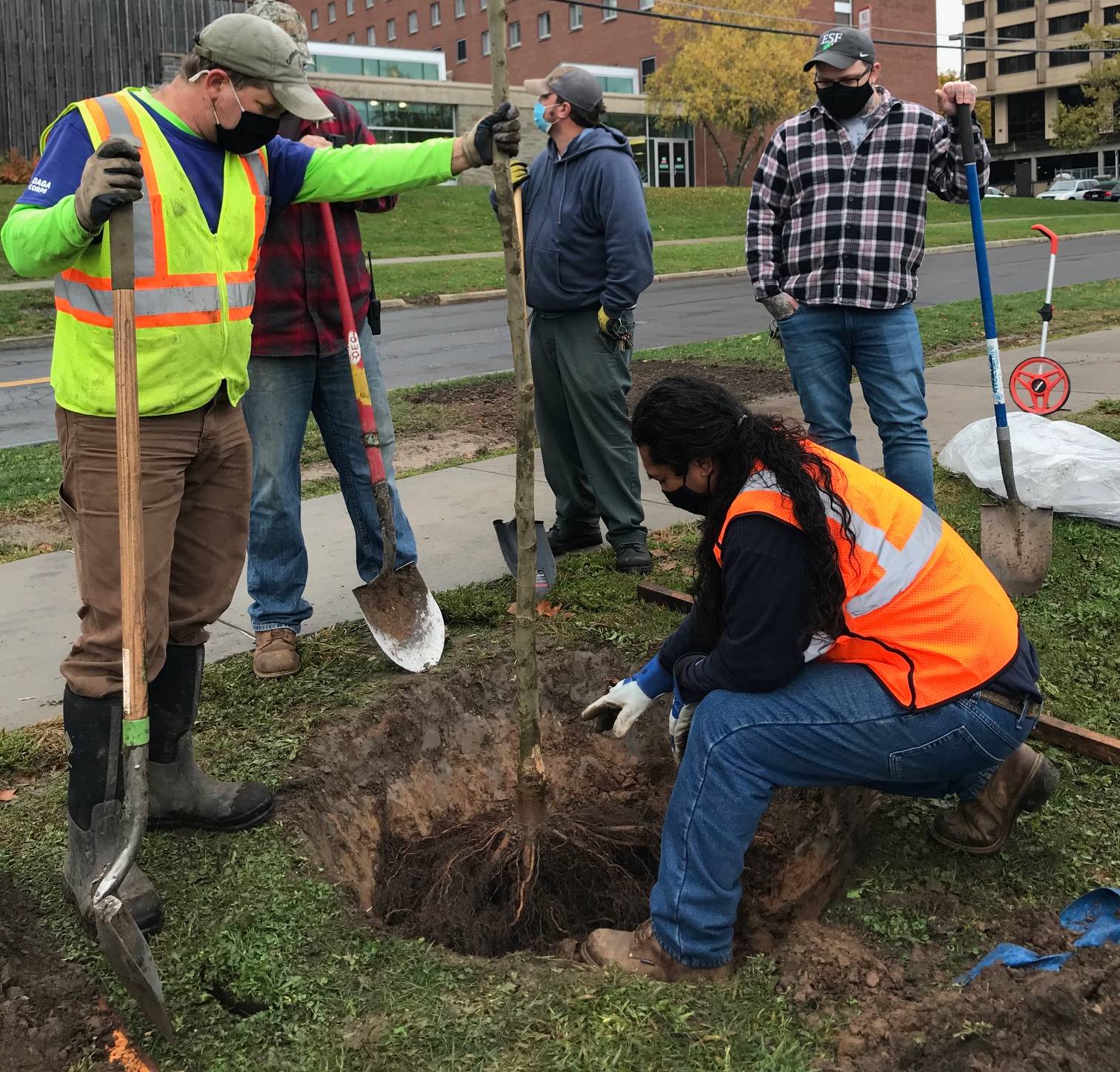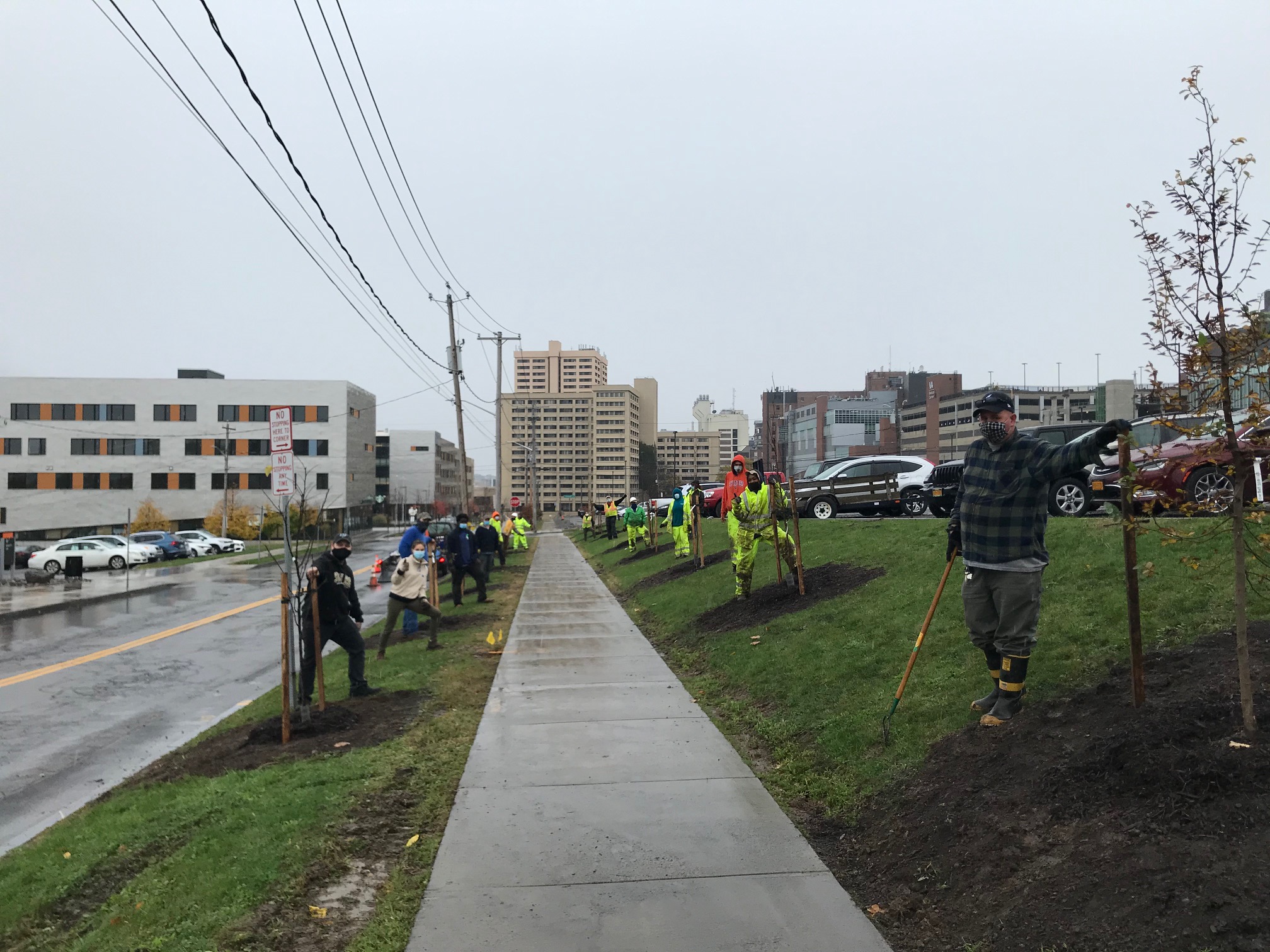 ESF does not use fertilizer on campus and in rare instances uses pesticides. Prior approval from College Leadership is needed to treat invasive and or potentially dangerous species with pesticides. The Grounds Division also helps to maintain the Gateway Center's green roof and assists with a campus-wide green roof cleanup during Earth Week every year.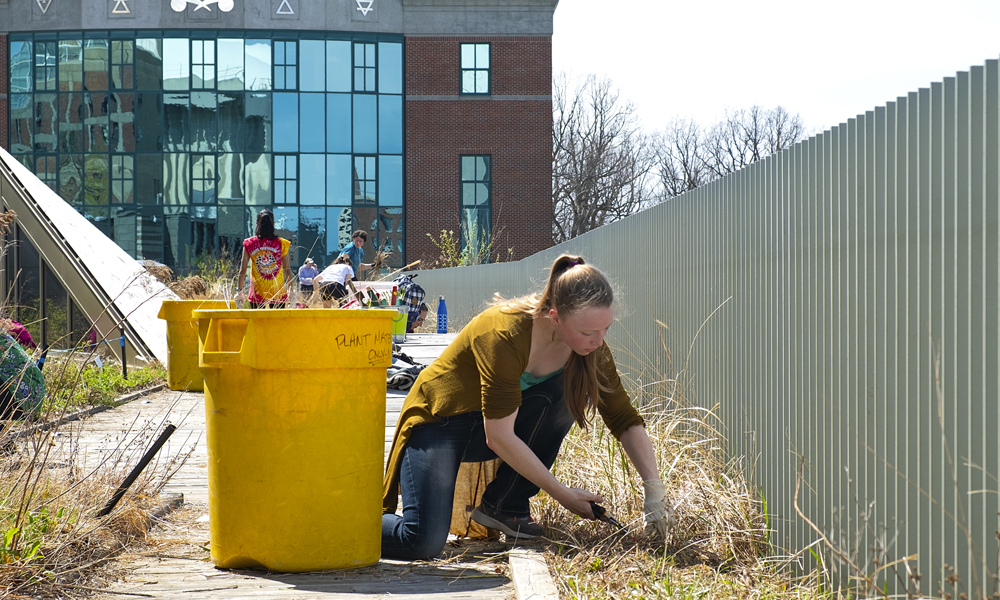 Electric Equipment
The Grounds crew electrified most of its handheld equipment during the Summer of 2019. Staff now use electric leaf blowers, chainsaws, string trimmers, pole saws, walk behind mowers and snow shovels. The crew is even testing a walk behind electric snow blower! Electric equipment cuts down on noise and air pollution on campus and also reduces fossil fuel use. The Student Garden at Lafayette Road also made the switch to electric push mowers.
Path to Zero Waste
The Grounds team collects compost, recycling and trash from building trash rooms and brings it to centralized locations for collection by Syracuse Haulers and Natural Upcycling. They also help conduct and coordinate waste audits for classes and student clubs.
Battery and Ink/Toner Recycling
Grounds collects and sorts batteries from building drop off locations and also collects ink/toner. Members of the campus community can recycle batteries and toner/ink at the following locations on every floor, of every building.
Electronics and Scrap Metal Recycling
The Grounds Division also coordinates electronic and scrap metal recycling. Electronic recycling opportunities exist for items such as: computers, televisions, copiers, fax machines, cell phones, radios etc. If you have electronic items that you would like to recycle, please submit a Work Order assigned to Deb Snyder (Property Control).
Active engagement from the entire campus community is needed to achieve success along our Path to Zero Waste. You can be part of the movement and help our custodial staff by being conscious of what you bring to campus and by properly sorting materials into trash, recycling and compost bins. ESF has set zero waste goals and reports on our progress annually. Explore our Sustainability Division for more information about a variety of sustainability initiatives.
Newspapers
Magazines
Cardboard
Cans
Glass jars & bottles
Plastic bottles & jugs
Milk & juice cartons
Stackable plastic dairy tubs
Scroll to the bottom of this page for instructions for recycling specialized items (ex: batteries, shredded paper, ink & toner etc)
Vegetables
Pasta & bread
Fruit
Meat & fish
Tea bags & coffee grounds
Paper towels
Most Trailhead items:
All to go containers (except triangle shaped)

Forks, knives & spoons
All soup cups
All drink cups (except cold cups as of Fall 2021 semester) and all lids
Napkins
Condiment containers
Coffee sleeves
Stirrers & straws
Items beyond this list are compostable only if they are BPI certified. If you don't know if an item is BPI certified, please place it in the trash
Styrofoam
Wrappers
Chip & snack bags
Plastic and coated (shiny) paper plates & cups
Plastics (see recycling flyer for exceptions)
Non -compostable Trailhead items

Triangle shaped containers
Wrap paper
Fry containers
Work Orders
Please submit a Work Order if you would like Grounds staff to move furniture or equipment.