Faculty Profile


Giorgos Mountrakis
Professor

419 Baker Lab
315-470-4824
gmountrakis@esf.edu
Education
Dipl. Eng. National Technical University of Athens, 1998
M.S., University of Maine, 2000
Ph.D., University of Maine, 2004
Links
Research Interests
environmental monitoring using remote sensing methods (e.g. impervious surface/vegetation structure using satellite image analysis, uncertainty analysis, context-based image classifiers),
environmental modeling using geographic methods (e.g. climate pattern analysis, national forest consolidation dynamics, biodiversity responses to climate/land cover changes, urban growth prediction), and
environmental decision systems (e.g. optimal placement of wildlife mitigation structures).
See Publications.
Current Graduate Advisees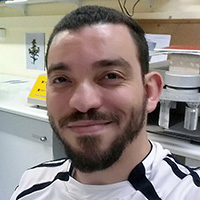 Atef Amriche
aaamrich@syr.edu
Degree Sought: PHD
Graduate Advisor(s): Mountrakis
Area of Study: ERE Geospatial Information Science & Engineering
Personal Statement
The journey of my higher education began with agronomic studies and specialization in soil science at the "Ecole Nationale Superieure d'Agronomie" (Algeria). My interest in GIS and remote sensing applications started growing after a first exposure to precision farming concepts. My passion for technology and innovations in computer science pushed me to further explore these two disciplines. My first Master thesis focused on using SAR data to map surface soil moisture in a semiarid area in Algeria. After that, I got a full scholarship from the international center for higher agronomic studies in the Mediterranean (CIHEAM) and enrolled in the Master of Science program "Geoinformation in environmental management" at the Mediterranean Agronomic Institute in Chania (Greece). My thesis work was focused on land cover mapping in the Mitidja plain - North Algeria. My goal here at SUNY ESF is to develop essential programming skills and a strong numeric and statistical background, necessary to address key environmental issues using remote sensing data.
Favorite Quote
" Any knowledge that doesn't lead to new questions quickly dies out: it fails to maintain the temperature required for sustaining life " ... Wislawa Szymborska
Research interests
Remote sensing / GIS / data mining / land cover & land use mapping / decision support systems / soil science.
Presentations
Soil resources and sustainable soil management in Algeria (representative of the Ministry of Agriculture and Rural Development) - FAO Near East & North Africa - Global Soil Partnership. http://www.slideshare.net/FAOoftheUN/soil-resources-and-sustainable-soil-management-in-algeria-ministry-of-agriculture-and-rural-development-atef-amriche

Babak Haji Seyed asadollah
shajisey@syr.edu
Degree Sought: PHD
Graduate Advisor(s): Mountrakis
Area of Study: Environmental Resources Engin

Sheyla Gaviota Rios Galeano
sriosgal@syr.edu
Degree Sought: MS
Graduate Advisor(s): Mountrakis
Area of Study: Environmental Resources Engin

Ahmadreza Safaeinia
asafaein@syr.edu
Degree Sought: PHD
Graduate Advisor(s): Mountrakis
Area of Study: Environmental Resources Engin
Zhixin Wang
zwang127@syr.edu
Degree Sought: PHD
Graduate Advisor(s): Mountrakis
Area of Study: ERE Geospatial Information Science & Engineering