ESF Food Pantry
Healthy food should be available to every student, without fear of judgment or second-class treatment.
About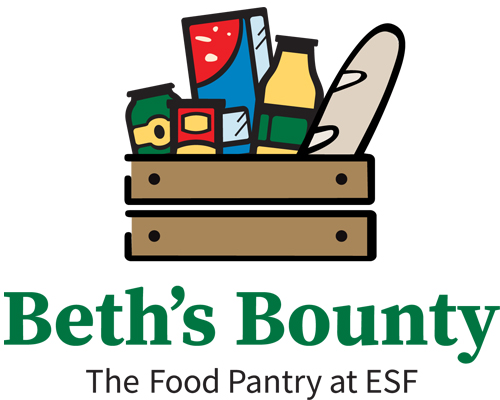 Food insecurity, the state of having limited or uncertain access to food, is an issue on college campuses across the country. To address this problem, the College of Environmental Science and Forestry (ESF) established an on-campus food pantry for students who may be experiencing hunger and/or struggling to attain food due to financial hardships.
The food pantry is named to honor Beth Ann Newkirk, an ESF student who died June 11, 2019, in a house fire. Beth came to ESF as a transfer student in the fall of 2018 in EFB. She used the Syracuse University Food Pantry and if she was still with us would be an avid supporter of ESF's pantry. Beth was described as "a glowing bright light" and "a joy to be around." It is a great privilege for ESF to name the pantry to honor her spirit.
Beth's Bounty: The Food Pantry at ESF is run by Alpha Xi Sigma, ESF's Honors Society student organization. It receives support from the Division of Student Affairs and the Food Pantry Advisory Team.
Objectives
Creating a safe space to distribute quality emergency food to current ESF students.
Creating and promoting a space on campus dedicated to food donation collection.
Collecting quality food items that may otherwise go to waste to enhance sustainability initiatives on campus.
Encouraging student engagement to foster a sense of community, volunteerism, and service to peers on campus.
Location
The Food Pantry is located in the basement Bray Hall, Room 3A.
Access
Students will be asked to show their ID upon entering the Food Pantry to verify student status. Otherwise, use of the Pantry will be anonymous and confidential.

In an effort to support students in need of using the Food Pantry and helping it sustain itself, there will be a limit on how many items per food category students can take in a single visit. The Food Pantry student staff will assist visitors with questions.
Give to The Food Pantry Fund
Your gift will be used to support the Pantry's daily operation, and to supplement the inventory of donated goods.
Checks made payable to: SUNY ESF College Foundation, Inc.--note "Food Pantry" on the memo line—should be mailed to:

ESF Development Office
Re: Food Pantry
214 Bray Hall
1 Forestry Drive
Syracuse, NY 13210
---
Donate goods to the Food Pantry:
The Food Pantry is accepting donations of food and personal care items.

Items can be dropped off, or shipped to us at:

Division of Student Affairs
1 Forestry Drive, 14 Bray Hall
Syracuse, NY 13210
Suggested items:
Below is a list of suggested items. Check out our Amazon Wish List for ideas and to deliver directly to the Pantry.
Other Resources in the Community

ESF students can also access the Syracuse University Food Pantry located in two locations now. The location on SU Main Campus is in Hendricks Chapel in the Dean's Office, Room 003. The second location is on SU's South Campus. For more information please visit Hendricks Chapel at http://hendricks.syr.edu/services-and-initiatives/food-pantry.html.
Additional Resources in the Community are:
https://www.foodpantries.org/ci/ny-syracuse
And Emergency Food Pantries are:
For additional resources beyond food, ESF has started to compile a set of brochures outside the pantry and wrote a resource guide for support within the surrounding community. List of Community Resources (DOC)