Center for Native Peoples and the Environment


Sowing Synergy
A Graduate Program to Integrate Indigenous & Scientific Knowledge for Sustainability and Biocultural Restoration
The most pressing environmental challenges we face, as a global society, lie at the intersection of natural ecosystems and human cultures.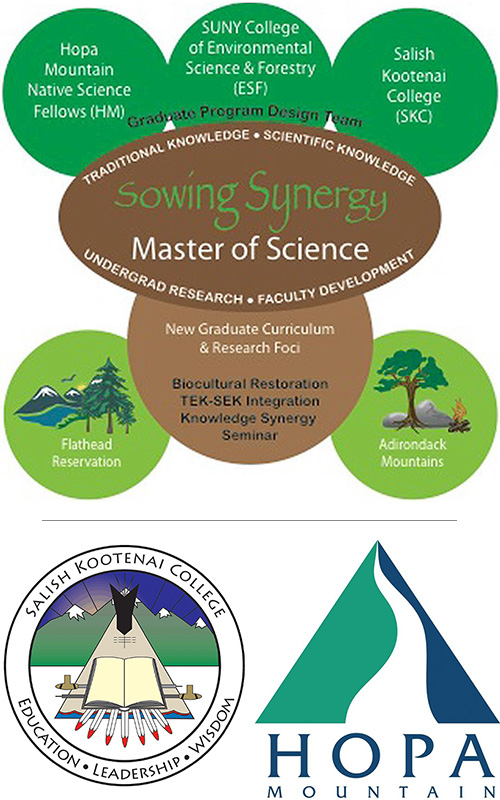 Accelerating climate change and natural resource depletion will force adaptation, which requires a new generation of environmental professionals to lead the transition. In order to derive innovative sustainability solutions which link biological and cultural systems, these leaders need to be equipped not only with strong scientific skills but also with interdisciplinary thinking and cross-cultural fluency.
All over the globe, scientists, policy makers and land managers are increasingly recognizing that traditional ecological knowledge (TEK) of indigenous peoples offers a powerful complement to conventional approaches to sustainability, by incorporating indigenous science and philosophy of respect, responsibility and reciprocity with land. Federal agencies and international agreements now encourage, and indeed mandate consideration of TEK.
And yet there are no graduate programs in the US which explicitly integrate these two powerful ways of knowing in environmental problem solving. The goal of "Sowing Synergy" is to design and deliver an innovative graduate program that integrates traditional ecological knowledge with the tools of western science, for our shared concerns for Mother Earth.
Sowing Synergy
Sowing Synergy: A Graduate Program to Integrate Indigenous and Scientific Knowledge for Sustainability and Biocultural Restoration will meet an exciting, emerging need in natural resources education, and create a model for educational innovation in graduate programs.
Native Americans are the most under-represented group in the American scientific community, and are "barely a presence in science" according to a report of the National Science Foundation. A 1991 study found a "consistent and nearly complete absence of American Indian faculty members in science and engineering". Our Sowing Synergy graduate program is designed to serve a growing number of tribal and non-tribal students who are poised to bring their talents, experience and perspectives into environmental problem solving.
Over the last decade, tribal colleges and universities have dramatically increased the number of indigenous students completing degrees in natural resources and environmental science. However, this success has led to a significant unmet need for culturally relevant Master's level education that welcomes, supports and integrates TEK and indigenous perspectives. The Center for Native Peoples and the Environment at ESF consistently receives inquiries from prospective students for graduate-level curriculum, research, and training opportunities that integrate TEK and scientific ecological knowledge (SEK). And today, in partnership with indigenous scholars, educators, students and communities we are creating just such a program
With support from a Higher Education Challenge award from the U.S. Department of Agriculture to the SUNY ESF Center for Native Peoples and the Environment, we are developing a new graduate program integrating indigenous knowledge with scientific knowledge in service to sustainability. "Sowing Synergy" is SUNY-ESF's new collaboration with the Salish Kootenai College and Hopa Mountain Native Science Fellows in Montana. The Master's level degree will be designed to incorporate research in the cultural and ecological landscapes of upstate New York where our college is located and the landscapes of our partners in western Montana. The program is collaboratively created, drawing on the wisdom and experience of tribal college educators.
The Program
The award will support an initial cohort of three new Native American graduate students with full tuition, stipend and research expenses, as well as undergraduate research apprenticeships. Biocultural restoration serves as the unifying theme for coursework and research. Biocultural restoration is the science and practice of restoring not only ecosystems, but human and cultural relationships to place, so that cultures are strengthened and revitalized along with the lands to which they are inextricably linked. Students are encouraged to build their research around the needs of indigenous communities, to serve the goals of biocultural restoration. The program includes new course development, publications, student enrichment and faculty workshops designed to link Traditional Ecological Knowledge and Scientific Ecological Knowledge in research, education and service to native lands and communities.
For more information, contact the SUNY ESF Center for Native Peoples and the Environment at nvpatter@esf.edu. We are recruiting Native American graduate students, with applications available at www.esf.edu/graduate. Please contact Dr. Robin Wall Kimmerer at rkimmer@esf.edu for additional application information.
Sowing Synergy Cohort Research Updates
Video introduction to

Kaya DeerInWater's work with

Citizen Potowatomi Nation

(CPN Hownikan)
Annie Sorrell

and

Loga Fixico's podcast series:

NDN Science Show

(video)