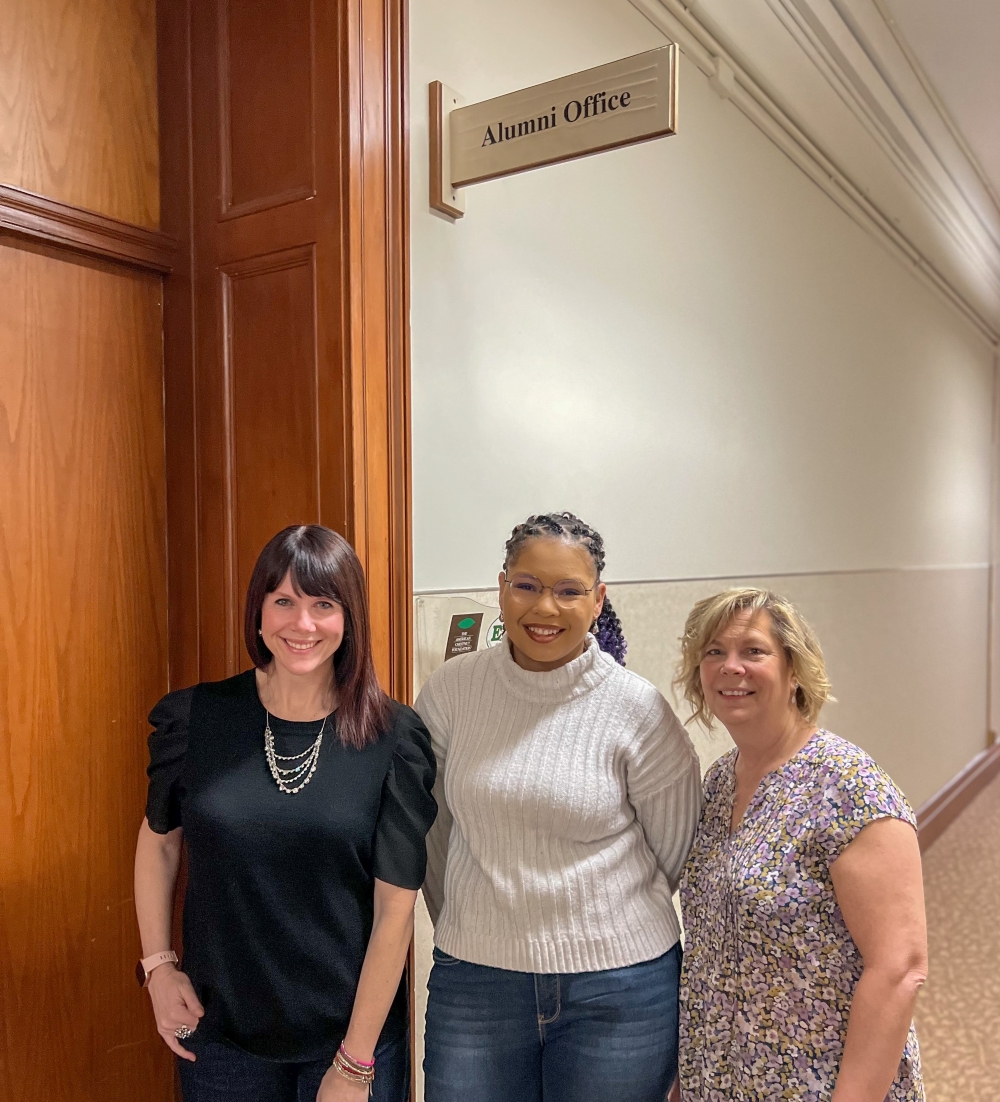 Staff Spotlight: ESF Alumni Office
Debbie Caviness, Jennifer Cullivan, and Akilah Spencer-McLain are the dynamic and passionate force behind ESF's Alumni Office. They work tirelessly to keep ESF alumni engaged with the campus community through exciting initiatives. Whether you're an alumnus, a current student, or a prospective graduate, there a number of ways you can get involved. Find out below!
Q: Tell us about the purpose of the ESF Alumni Association and how graduates can get involved.
Debbie: The purpose of the Alumni Association is to engage with and support not only alumni, but also students, and the College community. To get involved, graduates can become Alumni Admissions Ambassadors or join our ESF Connections career mentoring program! You can help recruit future ESF students as an ambassador or help advise current students in preparation for their post-college plans. Email us at alumni@esf.edu to learn more.
Jennifer: Come to our events! We host gatherings across the county throughout the year, as well as larger events like Homecoming and Senior Reunion (save the date – September 28-30). Also keep in contact with us – we love to know where our alumni end up and what cool things they're working on – you can do this via a Class Note or our update form. This way we can be sure you're receiving our publications and emails.
Akilah: Alumni can also give back financially by becoming a member or participating in ESF's Day of Giving on April 21st.


Q: What do you have planned for the coming months that alumni should add to their calendars?
D: Our annual golf tournament is August 11th, and it's our sole fundraising event. Every penny we raise goes directly to the Alumni Memorial Scholarships. If you're a golfer and want to play, or if you want to learn about sponsorship opportunities, email us: alumni@esf.edu.
A: We're also planning our first Cranberry Lake Reunion since 2016! It will be held from September 9 -11, and we'll have more information to share with alumni in the coming months. This is open to all alumni, not just those who studied at Cranberry Lake when they were here.


Q: The Alumni Office runs a lot of events throughout the year. Which one is your favorite and why?
J: Champagne Toast – which we hold every December and May – to welcome our newest graduates into the alumni ranks and wish them well as they set off into the world. We solicit family members and friends to send messages for their graduates and compile them into a scrolling slideshow which we broadcast at the Toast, and on social media.

A: I agree – the Champagne Toast - it's fun to share in this proud moment and send our graduates off in this celebratory way – and they get a commemorative ESF wine glass!

D: My favorite is Senior Reunion when alumni from the 50-year class (and older) return to campus. To see the joy in reconnection with classmates and campus…they're just so happy to be here, and to be together, and are so enthusiastic about the College and its current initiatives.


Q: We hear that you serve more than just alumni. Tell us more about how you help students through grants, scholarships, and on-campus resources.
D: We started the Alumni Grant program in 2016 and we have funded over 75 projects totaling over $40,000. The grants are meant to support initiatives above and beyond courses of study. We've funded conference presentations, service trips like Acorns to Action's trip to Puerto Rico, and even developing a mobile app to journal composting!

J: A cool thing that we do every year is donate a portion of the proceeds from maple syrup sales in the month of November to Beth's Bounty – the ESF Food Pantry. Over the past 2 years alone we have been able to donate nearly $4,500 to the Pantry. We also like to support student fundraisers with donations from the Bookstore, either as speaker gifts or raffle items.

A: Students scholarship and grant opportunities are all posted on engage.esf.edu and we also email students when they become available. If there are any programs students are interested in specifically, they can contact us at alumni@esf.edu.

Q: How can current students get involved with the Alumni Office?
J: I'm not sure if students are aware of this, but the Alumni Office can run lists for them of alumni in different fields, regions, majors, etc. We can foster that initial connection with our Mentors and Career Advisors for students to use to network.

D: We would love to involve alumni in student club activities. This could mean financially, with volunteers, donations from the Bookstore, as speakers, or in other ways.
A: We also host a Career Networking event on campus in conjunction with the Career Fair every year.

Q: What do you love most about working with ESF's alumni?
A: Their warm and friendly personalities! I started in the Alumni Office less than a year ago and I've been welcomed by our alumni in such a generous way.

D: Their enthusiasm for working with the current students, sharing their knowledge and experiences with them, and wanting them to succeed. Our alumni are great at "paying it forward" – recognizing people at the College who helped them when they were here, and responding in kind to offer the same support to current students.
Q: Can you tell us about the Graduate of Distinction Awards?
D: Every year we recognize three outstanding alumni who are considered pioneers in their field. We acknowledge a Lifetime Achievement recipient, a Notable Achievement recipient (mid-way through their career), and an alum who is just starting out.

J: We're currently accepting applications for the 2023 awards – alumni shouldn't hesitate to nominate themselves, or other graduates who have positively affected society or are otherwise inspirational.