Counseling Services


Frequently Asked Questions
Location and Hours
110A Bray Hall
Monday-Friday
8 a.m. - 4:30 p.m.
Call 315-470-4716 to schedule/change an appointment.
Call 315-470-4716 to speak to a licensed mental health counselor (answered 24/7).
Ruth A. Larson
rlarson@esf.edu
Joelle Conant
jrharr03@esf.edu
Crisis Help
If you are having a mental health crisis and want to speak to a counselor

after hours: 315-470-4716.
If you are having a mental health crisis

8am-4:30pm, please call:

315-470-4716

to get scheduled during our crisis hours at 10am or 2pm.
If you need to reach University Police for an urgent matter, call

315-470-6666 or 315-470-6667.
If you are experiencing a life-threatening emergency, call 911.
I'm interested in setting up counseling - what do I do?
Please call Counseling Services at (315) 470-6660 or stop in to Student Affairs 110 Bray Hall between 8:00 a.m. and 4:30 p.m., Monday through Friday. If you are in crisis and need to speak to someone immediately, please call (315) 470-4716 to speak with a counselor. This line is answered evenings and weekends.
How long are counseling appointments?
Most counseling appointments are 45-50 minutes long. Towards the end of counseling, 25-30 minute sessions may be scheduled as "check ins".
Are there limits on the number of counseling sessions allowed?
ESF Counseling Services provides short-term solution-focused counseling. The average number of sessions most people need is about 3-4, but this varies from student to student. We can offer approximately 6 sessions per semester or 10 an academic year. If you are needing services for a third semester, it would be beneficial for you to pursue long-term care with a provider in the community. We are not designated to be long-term therapy for students during their 4-5 year stay at ESF. For students who want or need longer-term services, we will assist them to find low-cost services. It is important to us that all students receive the mental health services they need and we will work with the student until they are able to secure appropriate care.
Does counseling really help?
Yes, counseling has been shown to help people. There is significant scientific research with findings that people who have counseling feel better than people who don't have counseling. The American Psychological Association states that counseling is effective in reducing symptoms and in managing emotional problems.
What crisis services are there?
Counseling Services has crisis/walk-in hours daily from 10am-11am and from 2pm-3pm and is very responsive to students in immediate need of help. After hours and on weekends and holidays, our phone line is transferred to a crisis intervention phone service where you can talk to a trained counselor. Please call 315-470-4716 if you are in crisis and need to speak to a counselor.
What if I need medication?
ESF Counselors do not prescribe medication, but they can assist you in obtaining medication from either ESF Student Health Center/Crouse Medical Practice or from the STCN (SUNY Telecounseling/Telepsychiatry Network in collaboration with Upstate University Hospital Psychiatric Interns.
Why get counseling?
Students seek counseling for a variety of reasons. Some may be dealing with anxiety or depression; others may have experienced a loss, such as a death in the family or a relationship coming to an end. First-year students may come to counseling if they are having a difficult time adjusting to college. Seniors sometimes wish to speak to a counselor when they are uncertain about life after college. Many students enter counseling when they are struggling with challenges in their relationships. If you have been experiencing difficulty with an issue, and have attempted to resolve it on your own and have not been successful, counseling may be of help.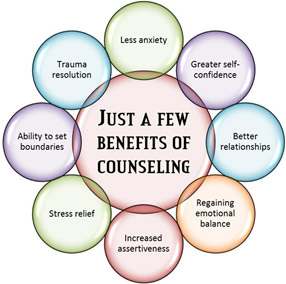 How can I get help for a friend?
If you are concerned about a friend, please let them know about Counseling Services. It is best if they make their own appointment and choose to seek counseling without pressure to do so. If you continue to feel concerned, and they choose not to seek counseling, feel free to call us at 315-470-6660 to consult about how to best proceed.
Can my friend come with me for my first counseling session?
Counselors understand that starting therapy can be hard and it's ok to have a friend with you to make it easier. However, your confidentiality is important to us so we may ask your friend to wait for you in the waiting room during the session in order to give you a chance to talk with your counselor about things that you might not want to discuss in front of your friend.
Can anyone (like my parents, guardian, professor, or an employer) find out I've been in counseling?
No, not unless you give written permission for the information to be released. Your counselor will ask for personal information in order to assist in your care. This information is not shared with anyone inside or outside the College without your permission. Your instructors, advisors, and residence hall staff do not have access to this information. Your counseling file does not become part of your academic record.
If you would like us to communicate with a doctor or someone else about your counseling, you would sign a Release of Information stating who you want us to talk to and what you want us to say. The same holds true for future employers; they cannot have access to your counseling record without your written permission.
Counseling is confidential with a few exceptions. At ESF Counseling Services, protecting client privacy is of the utmost importance. Counseling Services maintains confidentiality for all of its clients. Counseling records are separate from academic and student health records, and cannot be accessed by faculty, staff, or parents/guardians without the client's written consent. There are exceptions to the limits of confidentiality and these exceptions are:
When a student is in an imminent danger to themselves and/or others.
When a counselor learns of abuse to a child or vulnerable adult
When a terroristic threat is made
If a subpoena is received for a court case and is signed by a judge
If any of these conditions is suspected, the counselor will discuss with the client the counselor's mandatory reporter status.
Do you do couples counseling?
Yes, we do couples counseling if both students are registered at ESF. We provide counseling for romantic partners who are concerned about their relationships or experiencing relationship problems.
Do you provide diagnoses?
Counseling Services provides short-term, solution-focused counseling services. While all of our clinical staff are professionally trained, licensed therapists, we generally refer students to off-campus services for a thorough evaluation if a diagnosis needs to be made.
Student Conduct required that I see a counselor to complete a sanction. What can I expect?
We provide assessment interventions for students to complete their conduct sanctions. You will meet with a counselor to complete a general assessment of your wellness, as well as discuss decision-making and support services available to you.
The Dean for Student Affairs is mandating contact with Counseling Services after I was hospitalized for mental health concerns. What can I expect?
In the rare occurrence of a serious mental health issue occurring on or off campus that requires hospitalization, ESF is focused on your safety and wanting to assist you in any way we can. You will meet with a counselor for a general assessment of your wellness and create a safety plan to ensure that you are aware of all of the resources available to you.
Will you provide a letter to support a late course withdrawal or College withdrawal?
Dean Anne Lombard will be more than happy to meet with you and discuss all of your options regarding withdrawing, incompletes, and transfers. They can be reached at (315) 470-6660.
I am concerned about my son/daughter/student, can you call him/her/them?
Counseling is a voluntary service available to students who choose to seek it. We encourage you to refer your student to us, and we are happy to consult to provide you general information about resources available to your student. However, in an emergency situation, please call University Police at (315) 470-6666 or (315) 470-6667 to request a wellness-check.