SUNY ESF


The Public Speaking Lab
Welcome to the PSL!! The 2022-2023 academic year is an exciting time to meet the PSL staff and to learn what this free student service offers. Our mission statement is "To support, guide, inspire confidence and improve ESF students' ongoing public speaking and communication skillsets through collaborative dialogue." Below, you will find helpful information, including the PSL location, services offered, how to book an appointment for your tutoring session with one of our PSL tutors, current tutor pictures and biographic information and the PSL tutoring schedule. In addition, there are PSL video tutorials and the "Speaking of the Environment" podcast series. To learn more about the PSL, please reach out to the PSL Coordinator: Christina Ciereck – caciereck@esf.edu.
Thank you for your support during the 2022-2023 academic year.
Location
The PSL is located in 13-B Moon Library (in the back of the Writing Resource Center). This is where your tutoring appointment will take place with your selected tutor. Before your session, please consider going to Moon Library (lower level) to see where the lab is located.
Services
The PSL supports the development of our undergraduate and graduate students' public, academic, and professional speaking skills. PSL student tutors will work with you either in person or online through Zoom to provide formative feedback on presentations and presentation materials (from outlines, organization, and presentation visuals). The new online hours are specifically indicated on the schedule.
Making Your Appointment
To make an appointment, visit the PSL online scheduling system, esf.mywconline.com and set up an account. Once your account has been made, select a tutor and an available time which works for you. Check your email for a confirmation from the wconline system and the tutor. Your selected tutor will respond to you via email and take you through the necessary steps to complete your appointment as well as how we can make the most out of your appointment time.
Spring 2023 Hours
Video Tutorials and Resources
PSL Podcast Series - "Speaking of the Environment"
Episode 1 – 'Speaking From The Heart' with Dr. Valerie Luzadis, hosted by Eddie Ward can be found here.
Episode 2 – 'Planting A Seed' with Dr. Silje Kristiansen, hosted by Bridget Jones can be found here.
PSL - Reading Material - Helpful Tips
If you are interested in reading material which will augment your PSL experience please contact Christina Ciereck at caciereck@esf.edu. The material includes a wide range of helpful tips. For example, topics such as: presentation organization; public presentation and anxiety; and successful poster presentations.
Faculty Requests for PSL Services
We welcome assignment and course-specific collaborations with faculty. In order to ensure that our small staff can receive training and accommodate students in a timely manner, we recommend that faculty contact the lab coordinator (Christina Ciereck at caciereck@esf.edu) one month before the service is needed.
PSL Staff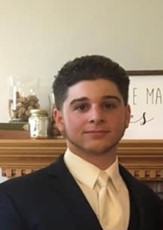 Michael D'accurzio, PSL Tutor
Email: madaccur@syr.edu
Academic Year: Junior
Major: Forest Resource Management
Areas of Expertise in Public Presentation: Transitioning from the outline to the actual speech, delivery skills with a strong focus on eye contact, projection, and connecting with the audience, and adding creativity to speeches.
General Interests: Fly fishing, hiking, birding, and tying flies.
Jade Nguyen, PSL Tutor
Email: jmnguyen@syr.edu
Academic Year: Junior
Major: Environmental Studies, with a concentration in Policy, Planning, and Law
Minors: Food Studies and Environmental Writing & Rhetoric
Areas of Expertise in Public Presentation: Organizing and outlining speeches, helping consolidate loose thoughts into solid concepts, researching and finding credible sources, and alleviating anxieties when it comes to public speaking
General Interests: Thrifting/sustainable fashion, plant-based cooking, watching animated films, and learning about/contributing to environmental and food justice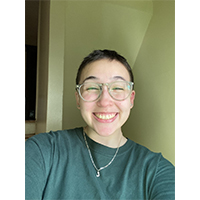 Bel Fiorese, PSL Tutor
Email: icfiores@syr.edu
Academic Year: Senior
Major: Environmental Science, with a focus in Watershed Science
Minor: Environmental Policy and Communication
Areas of Expertise in Public Presentation: organizing and outlining speeches, developing the use of details through credible research, and using solid delivery skills to maximize speech effectiveness
General Interests: frogs, baking, and crafts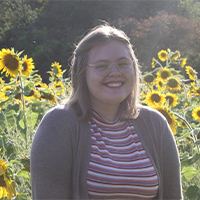 Maddie Westervelt, PSL Tutor
Email: mgwester@syr.edu
Academic Year: Sophomore
Major: Natural Resource Management
Areas of Expertise in Public Presentation: incorporating unique details and using creativity within a speech, using various strategies to help with public speaking anxiety, and using effective delivery skills within a speech
General Interests: reading, hiking, camping, canoeing/kayaking, drawing/painting, photography, cooking/baking, and listening to music
Christina Ciereck, PSL Coordinator
caciereck@esf.edu
9I Moon