DEPARTMENT OF Sustainable Resources Management


Natural Resources Management

Learn to conserve, steward, and manage our planet's natural resources.
Apply Now
The Natural Resources Management bachelor program teaches students how to understand and manage a wide range of renewable natural resources — soils, water, vegetation, wildlife, and recreation.
Addressing skills that are in demand.
We focus on developing professional knowledge and skills that employers tell us are the most important traits needed to manage and steward natural resources. These traits are developed through a broad base of classes in the natural sciences, social sciences and humanities, communication, and quantitative and qualitative problem-solving skills.
The SRM Summer Program is required for students in Forest Resources Management (except those who attend the Ranger School). This four-week session runs from the end of May and through June and is taught at ESF's Wanakena campus near Cranberry Lake. The program consists of one course (FOR 304 Adirondack Field Studies) and is designed to be completed between sophomore and junior years.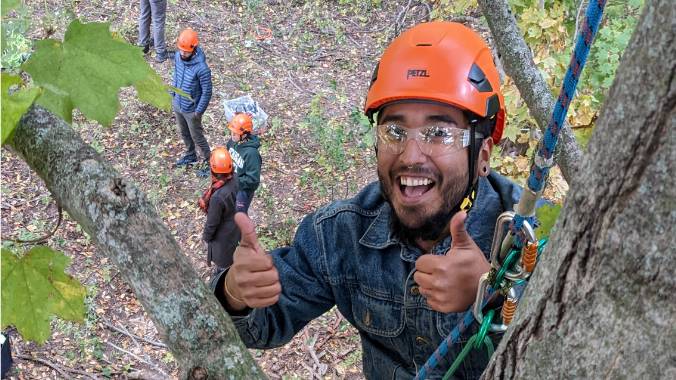 About Our Program
We build well-rounded natural resource managers.
ESF's roots are in forestry and we're proud of our history as one of the longest-running and most established natural resources management program in the country.
The forest is your classroom.
We utilize 25,000 acres of natural forest lands as hands-on teaching laboratories.
Build your resume with internships.
Gain experience through internships with natural resource-based organizations in the business, public, and nonprofit sectors so that you stand out at graduation.
We meet SAF accreditation.
Our program is accredited by the Society of American Foresters (SAF) in Forestry, demonstrating we meet high-quality industry standards in preparing our graduates for success by providing a strong educational foundation
Natural Resources Management Degree Outcomes
A degree in Natural Resources Management positions graduates for rewarding careers throughout the United States in public agencies, private industry, and for nonprofit organizations. Their duties range from recreation planning in state parks to recreation management in federal wilderness areas, and from watershed hydrologists maintaining surface water quality to land managers working for soil and water conservation districts.