SUNY ESF


Chestnut Memories
My name is Helen Nichols and I am 90 years old. Most folks don't remember what it was like when our forests were full of giant American chestnut trees,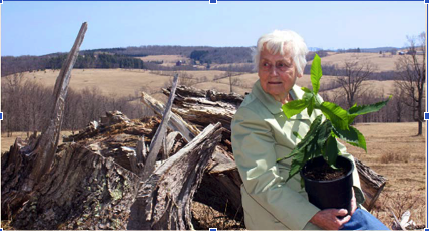 but I do. One of my first memories was walking up through the grass to a slanting rock near a large American chestnut tree. My Grandmother took me there that day to tell me about God. It was then I learned that I had a twin sister, Ellen, who had died at birth and was buried there. At times throughout my childhood, I would go up by the rock and sit by the small depression where my sister was buried, when I had no one to play with.
Other times, chestnuts bring back happy memories. Before the blight struck, my mother and father would collect chestnuts from the forest and sell them for Christmas money. The winter I was 9, we ran out of fire wood. Daddy was ill, so I went with my sister Maude, who was n, and cut down the chestnut tree with a cross--cut saw, as it was dead by then and was the closest tree to the house. The dry, dead branches broke into pieces when the tree fell and we carried them in for firewood. It was a final gift from the once majestic tree.
All these years, I have felt a sense of loss about the demise of the chestnuts. So much good they could be doing in the world; Lumber, nuts, wildlife, even jobs. To hear that the NY chapter of The American Chestnut Foundation, working with SUNY✓ESF has developed a blight resistant tree is wonderful! I hope everyone who hears this story will find out more information, and go plant their own chestnut tree. The chestnut was almost lost, but not forgotten. Ask your parents or grandparents if they have any memories of these giant trees.
With your help we can restore the trees to the forest and bring back this great American icon.