Division of Environmental Science


Biofuels: A high growth area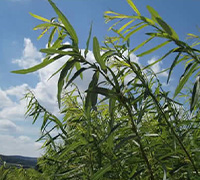 SUNY ESF researchers have been actively pursuing the use of biofuels as part of a more sustainable energy future. For instance, ESF works with university, private, and public partners to research and develop shrub willow for renewable energy and environmental applications. Willow systems can be multifunctional and produce sustainable energy along with other value-added benefits to ecosystems and communities. SUNY ESF also has a state-of-the-art combined heat-and-power (CHP) system that produces 65 percent of campus heating needs and 20 percent of its electrical needs. The CHP system uses biomass to drive a steam turbine and produce electricity, while natural gas is used for steam heating along with additional electricity. This building alone is responsible for reducing ESF's carbon footprint by an estimated 22%. SUNY ESF researchers are also working with lignin found in hardwoods as solvents that can be used to convert biomass to alternative fuels and chemicals, a new and exciting area where wastes are converted into value-added products. Such eco-friendly and sustainable research is what SUNY ESF is all about! Faculty involved with biofuels can be found in the GPES C&E Study Area.