Scholarship & Fellowship Opportunities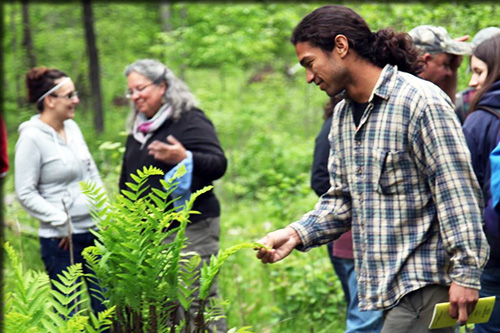 Sowing Synergy
A Graduate Program to Integrate Indigenous & Scientific Knowledge for Sustainability and Biocultural Restoration
With support from a Higher Education Challenge award from the U.S. Department of Agriculture to the ESF Center for Native Peoples and the Environment, we are developing a new graduate program integrating indigenous knowledge with scientific knowledge in service to sustainability. The award will support an initial cohort of three new Native American graduate students with full tuition, stipend and research expenses, as well as undergraduate research apprenticeships. Biocultural restoration serves as the unifying theme for coursework and research. Biocultural restoration is the science and practice of restoring not only ecosystems, but human and cultural relationships to place, so that cultures are strengthened and revitalized along with the lands to which they are inextricably linked. Students are encouraged to build their research around the needs of indigenous communities, to serve the goals of biocultural restoration. The program includes new course development, publications, student enrichment and faculty workshops designed to link Traditional Ecological Knowledge and Scientific Ecological Knowledge in research, education and service to native lands and communities.
Sloan Indigenous Graduate Partnership
Are you interested in the integration of indigenous and scientific knowledges in environmental research? Do you want a STEM career in service to land and culture? The Center for Native Peoples and the Environment at the State University of New York's College of Environmental Science & Forestry is recruiting students for graduate study in diverse environmental sciences from ecology, sustainability, conservation biology to restoration and environmental engineering. As a member of the Sloan Indigenous Graduate Partnership, the program provides funding for full tuition and stipends for Native American students pursuing MS and PhD degrees. Applications are open so please join us in this exciting initiative.
The Oren Lyons Scholarship
Named in honor of internationally recognized indigenous environmental leader, Oren Lyons, our prestigious Oren Lyons Scholarship Award is a four-year scholarship providing $5,000 per year for two Haudenosaunee students showing strong potential as environmental leaders. This award covers full tuition and most required fees for in-state students attending ESF on a full-time basis.
ESF Diversity Scholarships
Native American students from all nations may be eligible for ESF Diversity Scholarships worth up to $2,000 per year based on financial need. Government grants and scholarships are also available through the Federal Bureau of Indian Affairs and the New York State Department of Education. More information about these and other financial assistance programs for Native American students can be obtained through ESF's Office of Financial Aid and Scholarships, and online at: Scholarship, Fellowship, and Grant Programs. Native students at ESF also benefit from the support services of the Office of Multicultural Affairs and the Center for Native Peoples and the Environment.
Native American Environmental Scholarships: Indigenous Environmental Leaders for the Future
SUNY-ESF currently offers five prestigious fellowships to Native American students attending ESF beginning in Fall 2013.The goal of the program is to educate a new generation of indigenous environmental leaders. The Fellowship includes a $5000 annual scholarship for 4 years-as well as a program which provides Native students with a supportive cultural community, diverse environmental majors, educational enrichment and opportunities for applying your environmental education in community service. Students join a small close knit group of students and mentors from the ESF Center for Native Peoples and the Environment. The mission of the Center is to bring together the wisdom of both indigenous knowledge and environmental science, for our shared concerns for the earth. This fellowship is sponsored by a grant from the USDA Multicultural Scholars Program.
Graduate Fellowship in Forest Ecology and Climate Change in Tribal and Research Forests
The Center currently supports two fully funded Masters of Science graduate fellowships which integrate traditional ecological knowledge and environmental science to better understand the impacts of climate change on forested ecosystems in the Great Lakes, including biophysical as well as biocultural dimensions. Working in collaboration with our partner, the College of the Menominee Nation, graduate students conduct their research in two "sister forests" of the well known Menominee Forest and ESF's Huntington Forest. Graduate students also help mentor a team of undergraduates from both SUNY-ESF and College of the Menominee Nation in conducting undergraduate research. Students have an opportunity to contribute to development of a cross-cultural forest ecology course which draws upon both indigenous and scientific knowledge. These positions started in summer of 2013 and include 2 -2.5 years of support. This program is funded by an award to SUNY ESF and College of the Menominee Nation from the USDA Higher Education Challenge Grant program. Please contact Dr. Robin Wall Kimmerer for further information (rkimmer@esf.edu 315 470-6785)
Scholarship and Fellowship Opportunities
ESF encourages the enrollment of Native American students and provides several sources of scholarship support. There are a wide range of scholarship and financial aid resources available.
Joining the ESF Community
Our academic programs are designed to nurture the next generation of environmental professionals who are equipped with the perspectives of both environmental science and indigenous knowledge. We encourage you to explore the diverse array of academic programs that SUNY ESF has to offer.