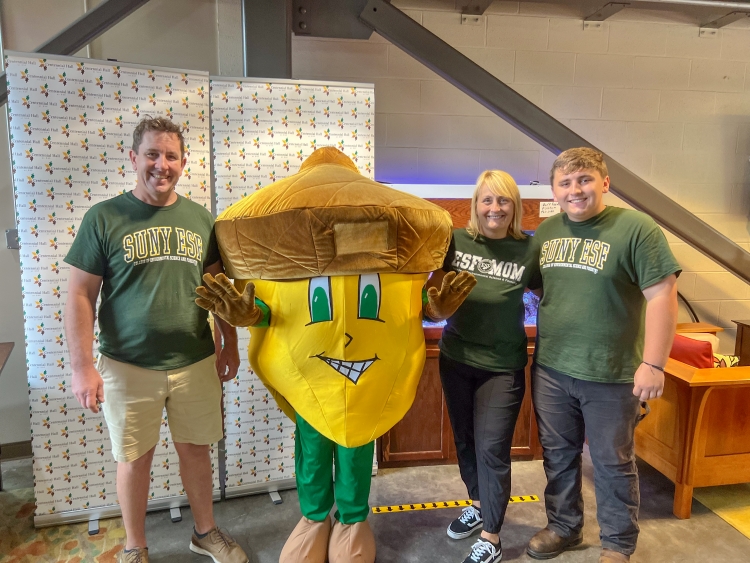 ESF Welcomes New Mighty Oaks to Campus for Fall 2023
Approximately 608 news students will be welcomed to the SUNY College of Environmental Science and Forestry (ESF) this week as the College readies to kick off the 2023-24 academic year.
Four hundred one first-year students begin arriving today and will continue to move in throughout the week. Two hundred seven transfer students will also be coming to campus this week to begin their ESF careers.
"There's something truly electrifying about the start of the academic year," said ESF President Joanie Mahoney. "It is wonderful to see the mix of anticipation and exhilaration on the part of students, faculty, and staff as they jump in to improve their world. I'm excited to see our newest group of students put their mark on ESF."
ESF received more than 3,500 first-year applications for Fall 2023 admission, which set a new College record. While most of this year's new incoming students represent 55 counties from across New York state, about 25% are from 29 other states, as well as other countries.
The class of 2027 is participating in a week of orientation activities to help them acclimate to college life, including New Student Convocation; sessions on wellness, academics, diversity, and sustainability; activities and games; and a food truck rally. The week culminates with the College's traditional Saturday of Service on Aug. 26, when students engage in community service projects throughout the area. This year, students will do general park maintenance and work on removing invasive species at seven county, state, and local parks in the area. Community service is one of the hallmarks of the ESF student experience and helps new students make an early connection with Syracuse.
Among the 207 transfer students, 27 are enrolled in the College's Ranger School in Wanakena, N.Y. These students are enrolled in one of the School's three associate in applied science programs. The Graduate School at ESF welcomed 125 new students who are pursuing their master's and doctoral degrees.
Classes begin at ESF's Syracuse campus on Monday, Aug. 28.
About SUNY ESF
The SUNY College of Environmental Science and Forestry (ESF) is dedicated to the study of the environment, developing renewable technologies, and building a sustainable and resilient future through design, policy, and management of the environment and natural resources. Members of the College community share a passion for protecting the health of the planet and a deep commitment to the rigorous application of science to improve the way humans interact with the world. The College offers academic programs ranging from the associate of applied science to the Doctor of Philosophy. ESF students live, study and do research on the main campus in Syracuse, N.Y., and on 25,000 acres of field stations in a variety of ecosystems across the state.
About the Ranger School
The Ranger School in Wanakena, New York, offers students a unique educational experience in a spectacular natural setting. The Ranger School confers the associate in applied science degree (A.A.S.) in three areas of study: forest technology, land surveying technology, and environmental and natural resources conservation. The Ranger School's one-plus-one plan allows students to complete their first year at the college of their choice, then spend their second year at The Ranger School.