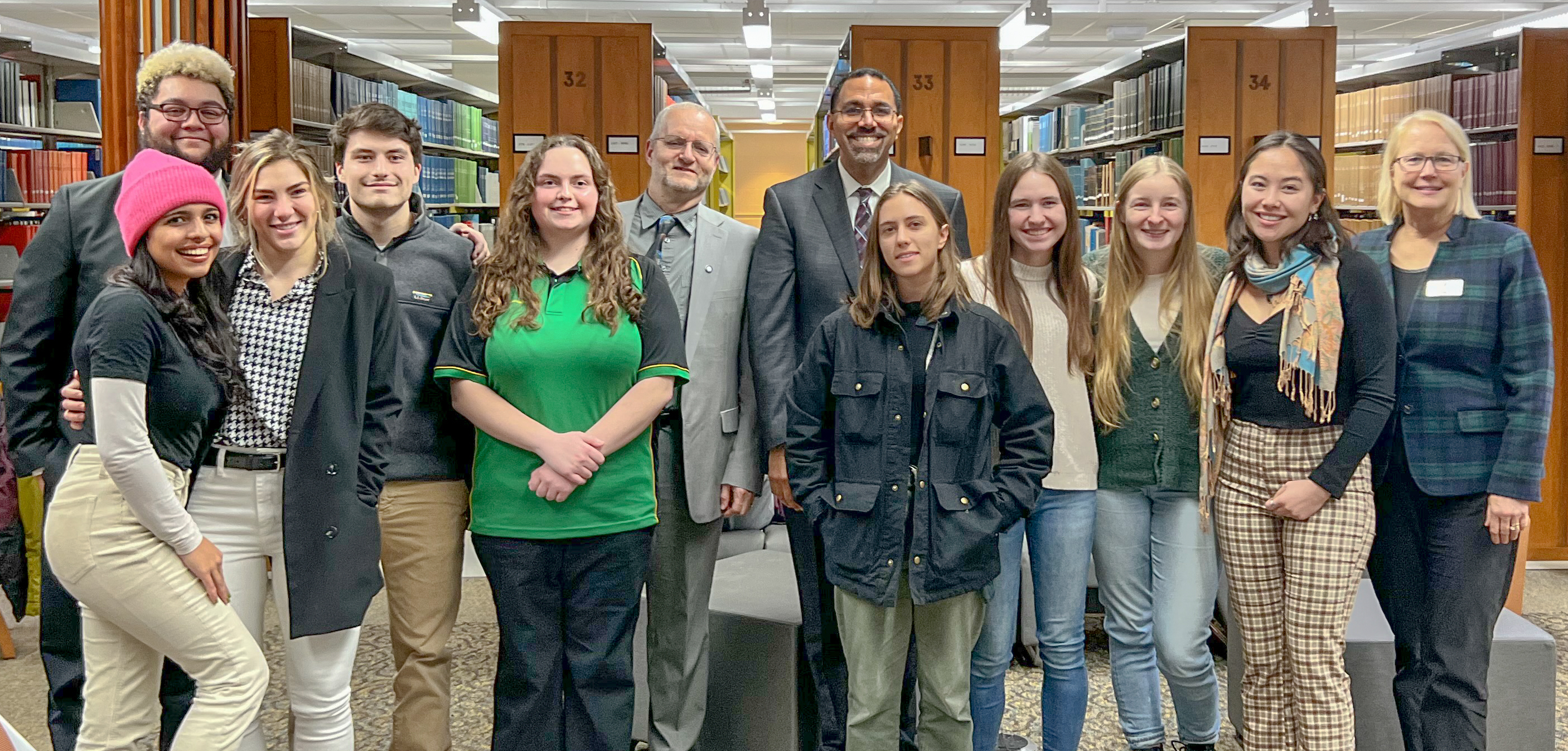 New SUNY Chancellor John B. King Visits ESF
ESF hosted new SUNY Chancellor John B. King Jr. as the seventh stop – and the first in Syracuse – on his tour of SUNY's 64 campuses on Monday, Jan. 30. The visit highlighted ESF's commitment to educating students on the environment and its position as a leader in sustainability.
King, who was appointed SUNY's 15th chancellor on Jan. 9, was greeted by President Mahoney and toured the Gateway Center, ESF's Platinum LEED-certified campus hub.
One of the sustainable highlights in Gateway is the high-performance Combined Heat-and-Power (CHP) Plant that is designed to capture waste energy for heating buildings and is a major component of ESF's Climate Action Plan.
Chancellor King and President Mahoney then stopped into an ornithology class before visiting the Roosevelt Wild Life Collections, which house over 10,000 specimens used for research and teaching, the oldest of which dates back to the 1860s.
Over in Moon Library, Director Matt Smith shared how the library is responding to students' needs with upgrades such as the new Moon Cafe, as well as the installation of new Zen pods designed to improve mental health. He also shared the library's goal to become a 24/7 space for students.
Chancellor King then sat down with members of Acorns2Action, a student-driven service organization. After hearing about the impact they make helping others, he asked them why they chose ESF.
"ESF has the best environmental pre-law program," said Isabel Valentin, an Environmental Studies student. Other students chimed in that they grew up with a love for the outdoors, wildlife, and science.
In Baker Lab, Chancellor King met with faculty members to talk about the mission of and programming offered through the Center for Native Peoples and the Environment (CNPE), as well as the College's role in the state's Climate Leadership and Community Protection Act.
The mission of the CNPE — founded and directed by Dr. Robin Wall Kimmerer — is to create programs that draw on the wisdom of both Indigenous and scientific knowledge in support of environmental sustainability. In addition to serving as a bridge between traditional ecological knowledge and western scientific approaches, the CNPE incorporates Indigenous perspectives and knowledge for the benefit of native students and works to educate mainstream students in a cross-cultural context. The Center includes a significant outreach element focused on increasing educational opportunities for Native American students in environmental sciences, research collaborations, and partnerships with Native American communities to address local environmental problems. Kimmerer was recently named a MacArthur Fellow for her indigenous ecological studies.
The Climate Leadership and Community Protection Act is one of the most ambitious climate laws in the nation. The Chancellor spoke with faculty members involved in the process: Drs. Robert Malmsheimer, Timothy Volk, Colin Beier, Tristan Brown, and Obste Therasme. Malmsheimer and Brown served on subcommittees of the Climate Action Council, which approved the final scoping plan of the Act. The final plan directs ESF to provide education and outreach on mass timber construction, promote the use of long-term durable wood products, work with the New York state to set standards and specifications for the inclusion of wood products in new construction and infrastructure, and enhance the public's understanding of the bioeconomy and its role in reducing GHG emissions, to name just a few of the to-do items.
The day concluded with an overview of ESF's sustainability efforts, which include Trailhead Cafe's new reusable container program and the campus zero-waste initiative.
"It was an honor hosting Chancellor King at ESF and having the opportunity to talk with him about the impactful work of our students, faculty, and staff," said ESF President Joanie Mahoney. "Chancellor King understands the critical need to protect our environment and implement sustainable change, which is our mission at ESF. We're grateful for his leadership and support."
Hear a story from WAER about King's visit and his new role as Chancellor: SUNY Chancellor Pays Visit to ESF.