DEPARTMENT OF Sustainable Resources Management


Construction Management

At ESF, our Construction Management program is designed to build leaders. Our students gain the tools they need to work effectively and prepare for a rewarding career.
Apply Now
The Bachelor of Science degree in Construction Management at ESF is distinguished by a strong emphasis on collaborative project-based learning, a unique focus on sustainability, a hands-on laboratory environment, leadership in the use of technology, and a close relationship with Syracuse University.
Construction management jobs are growing at a faster rate than other occupations, with projections to grow 11% through 2030. An increased demand for energy-efficient, sustainable buildings creates an even greater need for future qualified construction managers.
Students take a wide array of future-minded courses.
ESF's program gives students the hands-on, team-centric, technology-driven experience required to be prepared for project leadership. Our courses explore construction materials and processes, building design principles, and management skills for ensuring successful projects. Construction Management students gain a deep technical construction understanding, and develop skills for effective communication, efficient problem-solving, and exemplary cooperation.
Learn more about our industry advisory board, which provides curriculum guidance.
Construction Management students have a wide array of minors to choose from at ESF. Popular minors include Wood Products Engineering, Renewable Energy, Management, Landscape Architecture, Information Management and Technology, and more.

Our students focus on sustainability.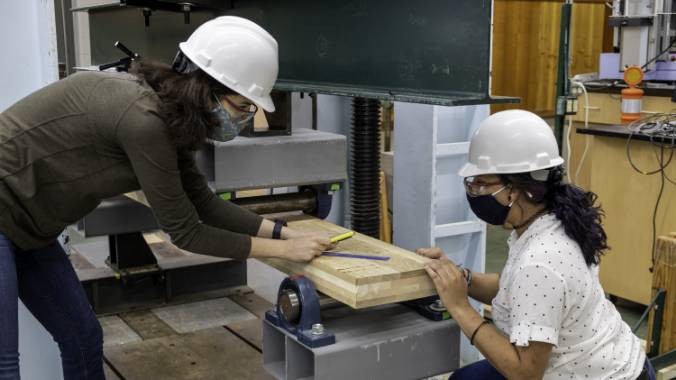 With a continuing emphasis on energy efficiency and sustainability in construction, ESF integrates the latest principles of sustainable construction into all of our courses. From day one, students learn and practice the guiding sustainability principles and many successfully earn the distinguished LEED Green Associate credential. Throughout the program, students also learn:
Net-zero construction
How to build both new construction and renovations to high- performance standards
Properties of traditional and newer construction materials
CM students help to organize and run the NYS Green Building Conference, where they meet and engage with professionals on the cutting edge of the industry.
Teamwork and hands-on learning are imperative.
Effective teamwork is paramount to keeping a construction project on time and on budget. Our students are engaged in classes, clubs, and competitions that allow them to work as a team and take on responsibility to deliver projects for the campus and community. ESF Construction Management students work alongside Syracuse University architects and engineers on integrated team projects and competitions, and often find themselves working with students from Real Estate, Management, Architecture, and Civil Engineering majors.
The green building materials lab, the wood machining lab, and the material testing lab give students the hands-on experience to understand the materials and processes used for construction.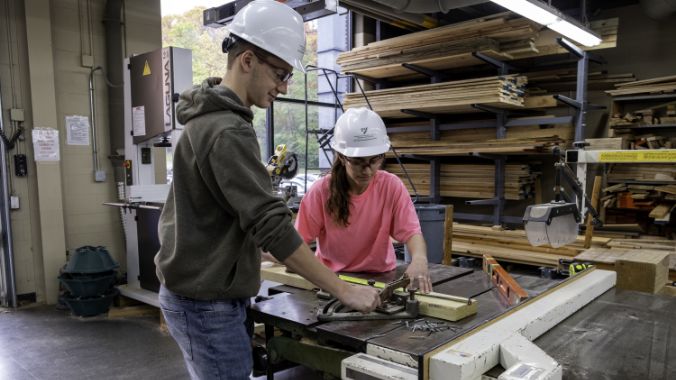 Our students are leaders.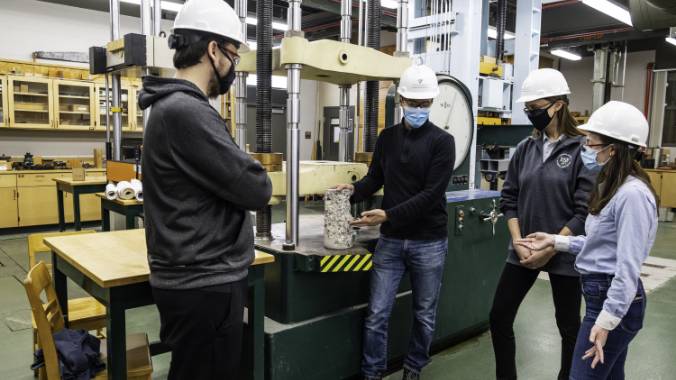 Construction managers need the right skills to execute a project from start to finish and students acquire them in a multitude of ways. Outside of the classroom, our student club works with professional organizations such as the Associated General Contractors, Associated Builders and Contractors, Sigma Lambda Chi, and the U.S. Green Building Council to gain a wide range of professional development opportunities.
Study abroad with CM! Our CM program also offers construction-specific opportunities in Denmark and in China. Read about one student's experiences during a semester abroad in Germany below.
Our students learn with the latest technologies.
ESF's Construction Management faculty are involved in research on the latest technologies in construction management. Their work in the lab brings the latest information into the classroom, and provides students the opportunity to utilize the latest technology. Jobsite visits provide student exposure for seeing this technology and techniques in action.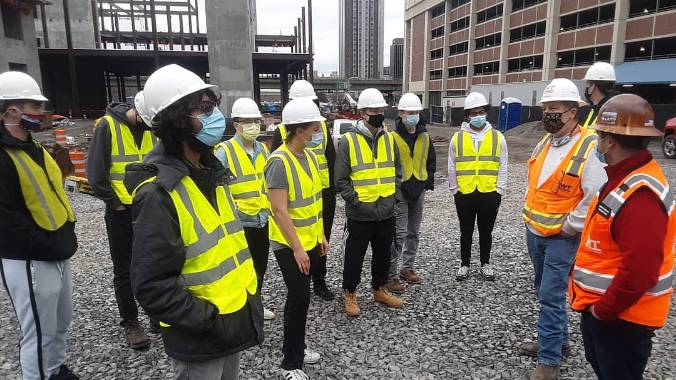 Whether building bridges or tiny homes, or planning net-zero projects, our students are building our future and improving our world.
11%
Job
Growth
$97,180
Median
Annual Salary
100%
ESF Graduate Outcomes Rate
39,000
Annual Projected
Job Openings
Construction Management Degree Outcomes
As part of the Bachelor's degree in Construction Management, you will build a resume with industry-recognized credentials. All students who successfully complete the construction safety course earn the OSHA 30-Hour Construction Outreach Card. All students take the Associate Constructor Level I Exam for constructor certification. Students who successfully complete the exam receive the Associate Constructor (AC) designation from the American Institute of Constructors. This designation is the first step in the process to become a Certified Professional Constructor (CPC).
In addition, required coursework, students can earn the following certifications:
LEED Green Associate
LEED Accredited Professional
NYS DEC Erosion and Sediment Control Training
Autodesk Certified User Revit Architecture
Students interested in pursuing a career in engineering have coursework that partially fulfills the preparation required for the Fundamentals of Engineering examination.
Career Options
Construction project manager
Safety director
Project engineer
Construction engineer
Field engineer
Planner/Scheduler
Contact Us
Paul Crovella
Assistant Professor and Construction
Management Coordinator

219 Baker Lab
1 Forestry Drive
Syracuse, NY 13210-2788
(315) 470-6839