Newcomb Campus


Camping in Huntington Wildlife Forest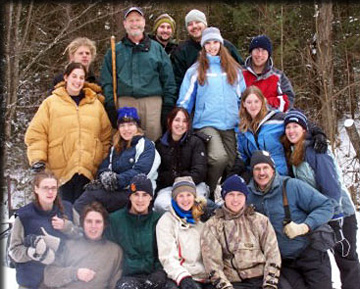 Camping on HWF requires permission of a Newcomb Campus Staff member, and reservation with the Guest Services Manager. Camping is only allowed on Catlin Lake at 1) Birch Point lean-to and 2) designated tent sites at Sabattis Pass. Housing fees will be applied to the use of these sites when appropriate.
Rules
Users are responsible for providing their own firewood.
No collecting or cutting of wood at the designated sites.
Fires are to be of reasonable size (no bonfires) and contained within the established fire ring/fireplace.
Do not re-build or "adjust" the fire ring.
Outhouses are to be utilized during the stay.
Food will be appropriately stored to avoid wildlife conflicts.
Educational groups camping on the property must have on-site supervision.
All Newcomb Campus policies apply when using these sites (i.e., alcohol, dogs, firearms)
Sabattis Pass
Camping is restricted to designated tent sites only.
Campfires are only allowed in the group fire ring located at Sabattis Pass cabin.
The cabin is not for overnight camping but can be used as a shelter in hazardous weather.
Birch Point Lean-to
Group size is limited to 6 people.
Campfires are only allowed in the fireplace.