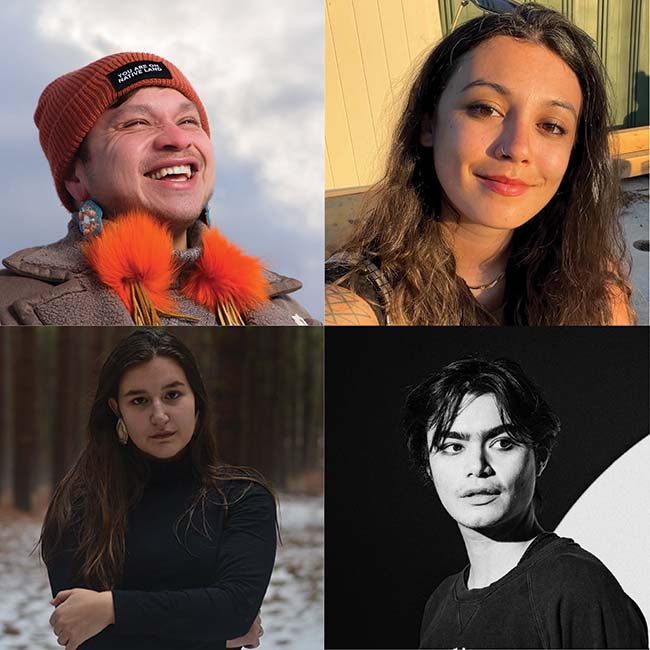 ESF Launches Indigenous Writer Residency Program at Cranberry Lake
Syracuse, N.Y. – June 1, 2023 – Four indigenous writers will participate in a new residency program at the SUNY College of Environmental Science and Forestry (ESF), one of the nation's premier colleges focused exclusively on the study of the environment, developing renewable technologies, and building a sustainable future. Through the Indigenous Writer Residency Program, each writer will spend three weeks at Cranberry Lake Biological Station, ESF's satellite campus nestled in the heart of the Adirondack Park on the ancestral lands of the Mohawk Nation of the Haudenosaunee Confederacy.
Residents include Abraham Francis, Shaawan Francis Keahna, Gillian Herrera, and Skylar Fetter. Their work spans from non-fiction to creative non-fiction to poetry to mixed media.
"We are honored to host these talented individuals in a location that has served as a source of inspiration and reflection for many. We received applications from across the globe and look forward to building this residency over the years," said ESF President Joanie Mahoney.
This summer marks the official launch of the Cranberry Lake Indigenous Writer in Residency after a successful pilot program in 2022. Writers will rotate through the station this summer, engaging with researchers, classes, and students. Each resident will present an evening reading/discussion for students participating in ESF summer sessions and local residents — and participate in a round-table discussion in the fall. Past residents are also asked to serve on the selection committee for the next cohort of residents.
To be considered, writers must complete an application that includes a biography, resume, work proposal, reflection on why the Cranberry Lake Biological Station (CLBS) is an ideal location for their work, and writing samples. CLBS provides residents with housing, meals, and a workspace. Residents also have access to all facilities, including canoes, classroom spaces, microscopes, and the ability to join classes if desired. Applications for next summer will open in November.
The 2023 indigenous writers in residence are:
Abraham Francis (May 21 - June 9) has a Bachelor of Science in microbiology and a Master of Science in natural resources from Cornell University. He is a Ph.D. student at Clarkson University studying environmental science and engineering. Previously, he was the environmental services manager for the Mohawk Council of Akwesasne. The position allowed him to develop and implement projects inspired and directed by community needs and influenced by his research interests. His research interests are at the intersection of environmental studies, Indigenous methodologies, community engagement, education, health, social services, law, and cultural foundations as a means for empowerment and healing within Indigenous Communities.
He hopes to bring all his research interests and passions together within his dissertation, targeted at creating tools to support other Indigenous Communities to care for their environments from their biocultural contexts. Francis has cultivated their expertise around their research and grown an extensive network of Indigenous Scholars/Knowledge Sharers, and Allies that carry a variety of expertise. These connections inspired the founding of the Aronia Collective, which seeks to align indigenous communities with experts to meet their unique needs and non-Indigenous organization to engage Indigenous peoples meaningfully.
Shaawan Francis Keahna (June 11 -30) is an interdisciplinary artist, researcher, and holistic archivist cataloging apocalypse through slice-of-life horror. His body of work blends fact, fiction, myth, and history, crossing genres and generations to better understand the urgency of our current moment. Keahna's most recent pieces are on display at the Watermark Art Center in Bemidji, Minn., in collaboration with Joan Kauppi. Their shared space is called "Aanikoosijigaade: It is Linked." Keahna's words have been featured in Cloudthroat, the Split Rock Review, and the Vassar Review, while Keahna's face has been featured in Veronica Rutledge's short documentary, "A Place on the Edge of Breath," Sky Hopinka's avant-garde short, "Dislocation Blues," and Ishkwaazhe McSauby's "Mino Bimaadiziwin."
Gillian Herrera (July 16 - Aug. 4) is a biracial Indigenous activist, artist, and social worker living in Portland, Oregon. She received a Bachelor of Arts in Creative Writing from Indiana University. Their work has appeared in Peach Mag and Gaze Journal, and primarily deals with exploring identity, processing trauma, and finding hope and humor in desperate times. When she isn't writing she enjoys traveling, mutual aid, the outdoors, rug making, reading, and spending time with her cat and friends.
Skylar Fetter (July 16 - Aug. 4) is an enrolled member of the St. Regis Mohawk Tribe. She grew up in the St. Lawrence River valley about 15 minutes from Akwesasne. She completed her undergraduate degree in English at Columbia University in May of 2021 and is now enrolled in the University of Utah's environmental humanities master's program.
She wrote articles about Indigenous student life, housing, and other social issues for the Columbia Daily Spectator's long-form magazine, The Eye. She transitioned into writing more creative nonfiction pieces and found her interest in the genre went beyond journalism. While at the University of Utah, she has been able to pursue her desire to write about Indigenous environmental issues through narrative storytelling and personal experience. It is this work that has driven her to continue to pursue academics and the path to telling not just her story, but her family's and her community's.
About SUNY ESF
The SUNY College of Environmental Science and Forestry (ESF) is dedicated to the study of the environment, developing renewable technologies, and building a sustainable and resilient future through design, policy, and management of the environment and natural resources. Members of the College community share a passion for protecting the health of the planet and a deep commitment to the rigorous application of science to improve the way humans interact with the world. The College offers academic programs ranging from the associate of applied science to the Doctor of Philosophy. ESF students live, study and do research on the main campus in Syracuse, N.Y., and on 25,000 acres of field stations in a variety of ecosystems across the state.
About the Cranberry Lake Bio Station
Cranberry Lake Biological Station (CLBS) is located in the heart of the Adirondack Park, on the ancestral lands of the Mohawk Nation of the Haudenosaunee Confederacy. The biological station is a satellite campus of ESF.
For more than 100 years CLBS has served as a source of ecological knowledge and inspiration. Generations of students have learned from the land, explored their interests, and built lasting bonds with other students. CLBS is a place where student aspirations take root and career paths are launched. It is also a hub of research with over 115 peer-reviewed publications crediting CLBS. Building on this tradition CLBS' mission is to provide learners with exceptional field experiences, further ecological understanding of the Adirondacks, engage with the broader scientific community, ensure diverse communities are supported in field studies, and engage with local communities.