Student Success and Engagement


Academic Success Center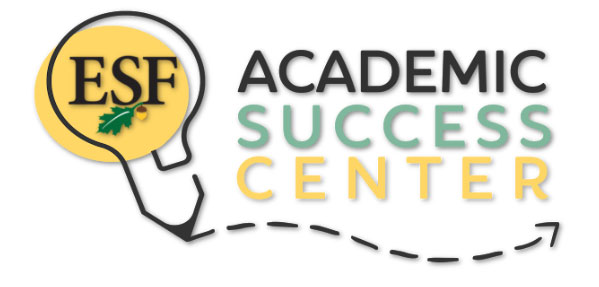 The Academic Success Center (ASC) helps students become resilient, independent learners. As the home of the ESF Peer Tutoring program, the ASC plays an integral part in providing a variety of academic success services for students to help them realize their educational goals. The ASC offers peer tutoring in over 35 courses and helps connect students to academic and social support resources at the college such as the Math Center, Writing Resource Center, Public Speaking Lab, AXS Test Files, Counseling Services, Center for Disability Resources, Librarians, and faculty/TA office hours. We assist all students and are focused on creating equitable and inclusive support services in collaboration with offices and departments.
Aley O'Mara, PhD (they/them)
Coordinator of Academic Success
9F Moon, Academic Success Center (lower Level)
(315) 470-6752
aomara@esf.edu (email for an appointment)
ASC Resources
Success Workshops
Workshops on skills for success are offered throughout the semester, RSVP on Engage.
Topics include:
Academic Mindset and Goal-setting
Study Skills
Test-taking Skills
Time Management
Stress Management
Save Our Semester
Team Rooms
The ASC Team Rooms are available for tutoring sessions, group study and independent work. Students can utilize the Team Rooms to prepare for work on project or study for an upcoming exam.
Social Channels:
SUNY ESF Academic Success Center
Check out our study playlists on Spotify!
ASC Services
Peer Tutoring
Through the small-group Peer Tutoring Program, ESF students can find academic support from a qualified undergraduate or graduate tutor. Tutoring is available in over 35 lower-division ESF courses as well as SU Physics courses. Requests for tutoring in courses on a case-by-case basis. Students can register for an account and make a tutoring appointment on the tutoring scheduling site.
Public Speaking Lab
ESF's Public Speaking Lab (PSL) is a free student-to-student service that supports the development of undergraduate students' public, academic, and professional speaking skills. PSL tutors work with students to develop successful presentations (from outlines to visual aids). The lab also functions as a rehearsal space and team room where groups of students can meet to plan, practice, film, and review presentations with or without a tutor. Located in 105B Moon Library. Come visit!
Math Center
Sponsored by the Math Department, the Math Center is designed to assist students with Algebra, Pre-Calculus, Calculus, and other math courses taught at ESF. Students can drop-in with questions on homework or to gain clarity before a quiz or exam. For questions specific to the services offered in the Math Center, students should connect with Professor Mary Thompson, coordinator of the Math Center. You can view the resources on Blackboard by searching Math Center in the Organizations tab once you log-in to Blackboard.
---