SUNY ESF


Upstate Accelerated Scholars
ESF's partnership with Upstate Medical University paves your path to the healthcare profession. Admitted ESF students seeking a bachelor's degree are guaranteed acceptance into Upstate Medical University's doctor of Medicine (MD) Program - without taking the MCAT - as long as you satisfy eligibility requirements and stay on track while you're a student at ESF—like Jackie and Ben!
Questions?
For additional information on application and curriculum requirements, please contact Undergraduate Admissions at 315-470-6600 or esfinfo@esf.edu.
Learn More
Virtual and in-person information sessions are available at ESF & UMU.
Who is Eligible?
Pre-college
An excellent high School GPA with a 90% average minimum
Extra-curricular activities that document some experience in a healthcare setting and commitment to service work
Combined Math and Reading SAT scores of 1200 or better or ACT score of 25 Composite or better
(Note: Admission to ESF is test optional, however, Upstate Medical University requires SAT or ACT scores for the UAS program.)
ESF
Completion of graduation requirements for the specific degree program
Completion of Medical School prerequisite courses: General Biology 1 and 2, General Chemistry 1 and 2, Organic Chemistry 1, General Physics 1 and 2 including labs for all listed courses, Biochemistry and Statistics, with no grade lower than a B
Carry a full course load of at least 12 credits each semester
Maintain a cumulative GPA of 3.50 or higher
Completion and documentation of 40 hours of volunteer service while an undergraduate
The MCAT requirement for admission into Upstate is waived for individuals that are accepted into the program.
Ben Carguello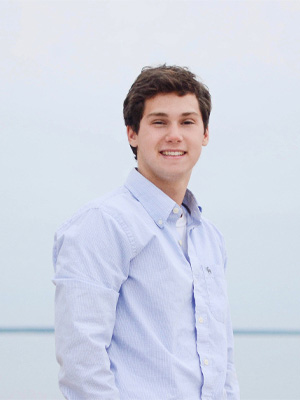 Relationships drive Ben Carguello's decisions. He's watched his dad build a successful medical practice as a family practitioner in upstate New York and attributes much of his dad's success to his constant pursuit of meaningful relationships with his patients and their families. Through personal experiences, Ben has found satisfaction in supporting others - an activity that has helped him forge some powerful relationships of his own.
Jackie Whitehead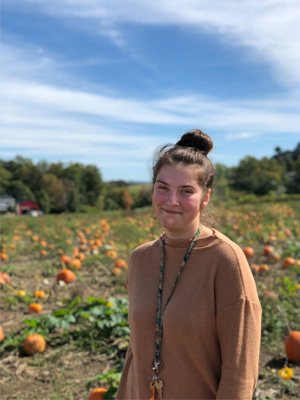 Growing up, Jackie Whitehead liked to push the limits. Sometimes, she pushed too hard and would find herself in the emergency room, often with referrals to an orthopedic surgeon to fix broken bones. Those who believe everything happens for a reason will completely understand this is why Jackie is now enrolled at the College of Environmental Science and Forestry as an Upstate Accelerated Scholar - on her way to becoming a doctor.
Shruti Zirath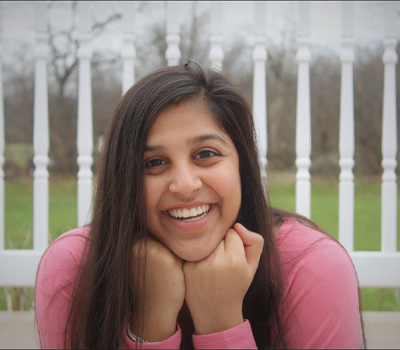 Shruti Zirath, from Syracuse, NY, has been accepted into the Upstate Accelerated Scholars program at ESF. She will begin in the Fall 2020. As a candidate in this program, Zirath has earned guaranteed acceptance into SUNY Upstate's College of Medicine upon completion of her undergraduate degree and relevant admissions requirements.
I'm ready to apply! What's next?
The first step to be considered for the UAS program is to

submit your application to ESF. Once we receive your application, we will send you an email with instructions on setting up your ESF Applicant Portal. Next, you will login to your Portal, open the

ESF Supplemental Questions, select

Pre-Health Interest

and check

Upstate Accelerated Scholars. Then, we will send you an email with next steps to be considered for the ESF Upstate Accelerated Scholars program, including how to submit your required

UAS Statement of Interest.
To be considered for the UAS program the

application to ESF

and all supporting credentials must be submitted no later than

November 15. Applicants who submit their application materials or statement of interest after this date will be considered on a case-by-case basis.
Students must be accepted to ESF to be considered for the UAS program. Please note acceptance into ESF does not guarantee acceptance to the UAS program by SUNY Upstate Medical University.
The ESF Nomination Committee will evaluate admitted students for eligibility to the program on a rolling basis. Students must meet the minimum pre-college criteria to be considered. The Committee will then make recommendations to SUNY Upstate. Students will be informed if they have been recommended for consideration into the UAS.
SUNY Upstate Medical University will screen candidates recommended by ESF on a rolling basis and determine which students will be invited to interview. SUNY Upstate will notify students invited to interview and coordinate accordingly. A cohort of up to ten students may selected for interviews; Upstate Medical University has committed to admit up to 5 students each academic year.
SUNY Upstate will inform students of their decisions and provide a conditional acceptance letter to the students selected.
Students accepted to the UAS program will be required to work closely with their ESF undergraduate academic advisor to craft a course schedule that meets the high academic science/general and major requirements expected of program participants. Unofficial Transcripts will be sent to SUNY Upstate at the end of each semester.
Acceptance into the UAS is binding. Students who apply to other medical schools once accepted into SUNY Upstate will be immediately withdrawn from the UAS.
This program is only open to incoming first year students. Students who have matriculated at the College and transfer students are not eligible for consideration.
One of the goals of this program is to encourage diversity and to provide a pathway to medical school for students from a variety of different academic backgrounds. As a result, students applying to the UAS are encouraged to consider majors outside of biomedical sciences (although students majoring in science will be considered).