SUNY ESF


Foundation Support Helps Ranger School Drive Student and Faculty Success
At a time when the world came to a halt and students across the country were sent home, the Ranger School's spectacular setting in the heart of the Adirondack Park turned out to be the perfect isolated spot for ESF students to continue their education without missing a beat. And thanks to the Ranger School Endowment Fund, Director Mariann Johnston was able to provide an enriched experience to students they wouldn't otherwise have had.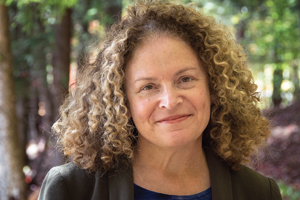 Johnston—a faculty member at the Ranger School since 2008—was appointed director amid the COVID pandemic in June 2020. Much of her first year was spent managing the pandemic: how to bring students in for face-to-face instruction "because we cannot teach what we teach here remotely" and how to keep them healthy once they arrived.
The Ranger School Endowment was created by multiple donors to ESF College Foundation to provide flexible support for Ranger School students and academic programs. This funding played a significant role in the success of the 2020-21 academic year.
To keep virus exposure to a minimum, students' off-campus travel was limited and outdoor activities such as hiking were encouraged. But Johnston and her team knew the students needed something to do, so they planned numerous events to provide a fun, social outlet. One example is Oktoberfest, during which a large tent was rented, and faculty and staff arranged for entertainment, food, pumpkins, cider, and apples.
"Being on campus the whole time got to our students after a while," said Johnston, "so being able to do those extra things mattered."
Donors have supported campus improvements as well. Joel Howard, a 1966 Alumni of the Ranger School, made a gift to support the campus computer lab, which was dedicated in his name.
Donations to the Ranger School Endowment provide flexibility when challenges arise, but the typical uses are scholarships and faculty development.
"This year, we were able to give over $56,000 in scholarships," from the general Ranger School Endowment and named endowed funds like the Dan Cook Scholarship, which provides a near full scholarship to a student who would otherwise be unable to attend.
Gift s also benefit Ranger School faculty. All faculty members belong to at least one professional society related to their field. Funding from the Foundation supports their participation in regional and local conventions, meetings, and trainings.
Johnston points to Dr. Vanessa Rojas as one faculty helped by donors. Dr. Rojas conducts bat research and does outreach, recently presenting at a meeting of the Empire State Forest Products Association about bat habitat.
"This funding allows her to participate in regional research meetings and maintain connections with other scientists studying bats," said Johnston. We've also been able to help her publish some of her work."
Foundation supporters provide funding for faculty to participate in annual conventions of the Society of American Foresters and the New York State Association of Professional Land Surveyors. Student memberships in these organizations are funded as well. As members, students can attend regional conferences, where they network with professionals in their chosen fields and participate in workshops.
"There's a lot of networking that goes on and the professionals love to talk with students," Johnston said. "It's a great chance for the students to understand and experience meetings, learn about careers, and learn how to become contributing and productive members of their chosen professions."
Above all, gifts to the Ranger School serve as a bridge to providing students, faculty, and staff with an enhanced experience and opportunities they may not otherwise have.